Announcement
Foodbank's Youngest Supporters partnering to raise $10,000 for Foodbank of Santa Barbara County
Jacob Mansbach and Dario de Albergaria recognized by City Council and Carpinteria Triathlon Organizer at Carpinteria Valley Chamber of Commerce Ribbon Cutting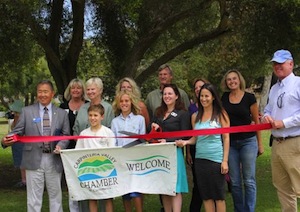 Recently, two of Foodbank of Santa Barbara County's youngest supporters, nine-year-old Jacob Mansbach and 11-year-old Dario de Albergaria were recognized at a Carpinteria Valley Chamber of Commerce Ribbon Cutting. The duo will be participating in this year's Carpinteria Triathlon and have partnered up to raise $10,000 for Foodbank before they complete the September 29th event.
So far, Jacob and Dario have raised $4,000 of their $10,000 goal. The community can follow Jacob and Dario's progress and contribute by visiting www.foodbanksbc.org/DarioAndJake4theFoodbank.html.
The recognition took place at Memorial Park located at 1400 Santa Ynez Avenue in Carpinteria, and included a Mayoral Recognition presented to Jacob and Dario by City Councilman Wade Nomura as well as acknowledgements by Matt Roberts, City of Carpinteria Parks Director and Carpinteria Triathlon organizer.
The Carpinteria Valley Chamber of Commerce performed a ribbon cutting to welcome Foodbank as a Chamber member and made one of the first donations towards Team Jacob and Dario's fundraising goal. "The Carpinteria Valley Chamber of Commerce is thrilled to have the Foodbank of Santa Barbara County as one of our members," said Lynda Lang, President/CEO of Carpinteria Valley Chamber of Commerce. "They do amazing work throughout the county, including Carpinteria, and we look forward to working with them. We're excited about their upcoming fundraising efforts through Carpinteria's 16th Annual Triathlon scheduled for Sunday, September 29th."
About the Foodbank of Santa Barbara County
The Foodbank is celebrating over 30 years of eliminating hunger and food insecurity by distributing nutritious food, education, and other resources through its own programs and to a network of over 300 member non-profit partners and programs in Santa Barbara County. Last year, the Foodbank distributed what translates into more than 8.5 million meals – of which fully half was fresh produce. This served over 102,000 unduplicated people from Carpinteria to Santa Maria, an amazing 1 in 4 people. For the fifth consecutive time, the Foodbank has recently been given a 4-star rating from Charity Navigator, America's largest and most-utilized independent evaluator of charities. Only 4% of the charities rated have received at least 5 consecutive 4-star evaluations, indicating that Foodbank of Santa Barbara County outperforms most other charities in America. More information at www.foodbanksbc.org.