Arts & Entertainment
Review: Marco Antonio Solís at the Santa Barbara Bowl
Sold-Out Saturday Concert Kept Fans Happy, Us Slightly Confused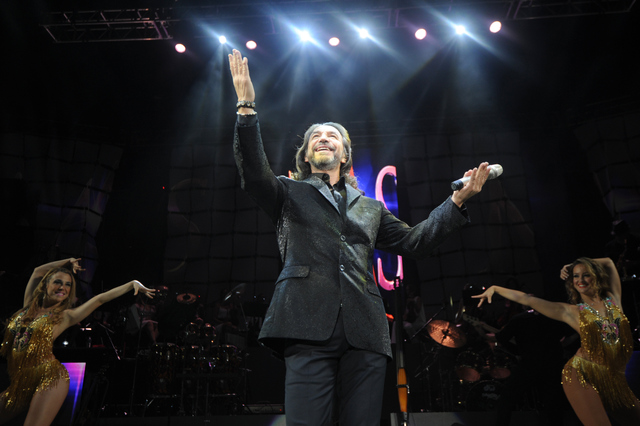 Marco Antonio Solís impressed in front of a sold-out crowd at the Santa Barbara Bowl on Saturday with a performance that was every bit as impressive as it was genuinely entertaining. Monologues in between songs were received with laughs and excited hoots and hollers, to such a degree that even the attendees who did not speak Spanish (both of us) found themselves laughing, so as to not stand out too dramatically. Such attendees may have accidentally identified themselves as being a "gordita" by raising their glass during one of these comedic interludes.
Each of Solís's songs were accompanied by the music video of that song, synched with the live music which was performed entirely in person by a band composed of more than a dozen musicians. And, while such a musical undertaking is nothing to laugh at, one had to chuckle at the montages of the bearded, long-haired Solís on balconies and beaches mouthing the words being sung a fraction of a second ahead of their pace.
Equally as impressive was the audience's devotion to Solís's music. Each song was greeted by cheers of enthusiastic recognition, seemingly suggesting that no hit or fan favorite was left off the set list.
All in all, it seemed clear that Marco Antonio Solís gave his audience exactly what they wanted — and that's more than a lot of this season's Bowl performers can say.