Arts & Entertainment
Del McCoury, Living Legend
The Masters of Bluegrass Come to Campbell Hall on October 3
There's only one rule about work that gets presented by UCSB Arts & Lectures —whatever it is, make it the best. And that's why on Thursday, October 3, the walls of Campbell Hall will echo with the brilliant musicianship and stirring harmonies of the Masters of Bluegrass. At 74, lead singer and guitarist Del McCoury provides a direct connection to the heart of traditional bluegrass, not only through his extraordinary abilities as a performer, and his association with such past masters as Bill Monroe, but also for the simple fact that, when it comes to bluegrass, he's been there, and done that. Born in North Carolina, raised in York County, PA, and come of age in the nightclubs and studios of the bluegrass circuit circa 1965, McCoury continues to embody the "high lonesome sound" as well as any bandleader in history. In tandem with his equally musical sons, Ronnie (mandolin) and Rob (banjo), he has developed an approach that successfully pairs the sweetness of traditional musicianship with the salt of adventurous song choices and unexpected (Steve Earle, Dierks Bentley, Preservation Hall Jazz Band) collaborations. I spoke with Del McCoury last week by telephone, and he filled me in on the past, present, and future of an unusually harmonious dynasty.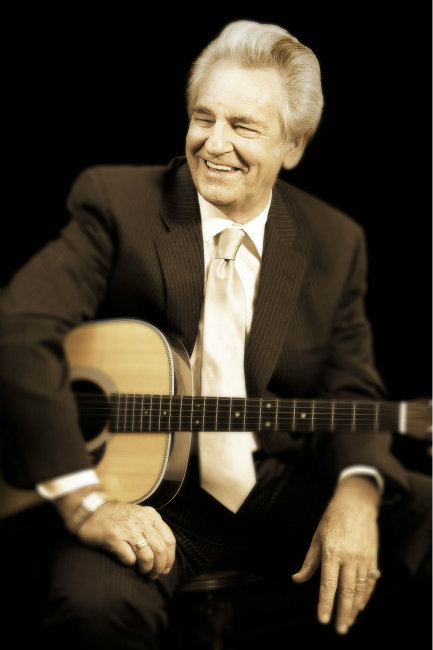 Your latest record is called "The Streets of Baltimore." I know that's partly because it's the title of a great song that you cover, but is there more to it? Yes, because when I was starting out, I used to play a lot in Baltimore, working mostly in little clubs. That was how I met up with Bill Monroe. For those guys [Monroe's group the Blue Grass Boys], Baltimore was a stop on the way to New York City, and they took me with them, but after that I went back to Pennsylvania, and eventually ended up in Nashville.
I didn't know that Baltimore was such a big music city, especially for bluegrass. Why do you think there was a bluegrass scene there? Like any seaport town, Baltimore could be rough. I suppose if you're out on the water for a year or two, when you hit land again you're likely to go a little crazy. People came from all over to work there during the war, so maybe that's why it was such a big bluegrass town, and Washington as well. This was the later 1950s and into the 1960s. There was a great bluegrass radio deejay in Baltimore — Ray Davis at WBMD — and he would have people play on his show, so there was a way to get heard there besides just the club work. The first bluegrass band to ever play Carnegie Hall came out of Baltimore — Earl Taylor and the Stoney Mountain Boys. That happened because of Alan Lomax, who also recorded them and put them on Folkways. So you can see how important Baltimore was to the development of the music. Detroit and Cincinnati were bluegrass towns too, but Baltimore was kind of the main place at that time.
Do you still sing and play into a single central microphone? And do you think that there's such a thing as family harmony? Yes we do, although these days there are some other microphones and amplification for the bass involved. But we still do run the lead through the one in the middle, in the true bluegrass style. And yes, I do believe there is such a thing as family harmony. The tones are similar, and even the timing has an effect — we tend to say our words together too.
Has the bluegrass gene passed to the next generation? Do your grandchildren enjoy the music as much as you do? I don't know about that, but Ronnie's son is a great guitar player, and he's only 15. He also plays clarinet and a bunch of other instruments. My daughter's son Jake — he's at UT in Knoxville — he comes around and plays chords on the guitar I never even heard of. So yes, it's all happening again. My grandchildren are now around the same ages that my sons were when they took it up. Ronnie was 14 when he started playing rhythm mandolin in the group, and Rob started out playing bass before he moved to banjo. It does seem to run in the family.
You recently did a record with the Preservation Hall Jazz Band, playing a hybrid of bluegrass and New Orleans-style jazz music. How did that collaboration come about? I was sitting at home while the Travelin' McCourys were on tour, and my manager called to ask if I was interested in recording a few songs with the Preservation Hall Jazz Band for a benefit record they were doing to help with the aftermath of Hurricane Katrina. I went down there, laid down some tracks, and when I got home they told me they wanted to use every one of them. So that's how that got started — through the people at Sony Distribution knowing us both. Of course now we get together regularly when we're in New Orleans. We got a thing going of sitting in with them at the Preservation Hall now.
4•1•1:
The Del McCoury Band performs at UCSB's Campbell Hall on Thursday, October 3 at 8 p.m.. For tickets and information, call (805) 893-3535 or visit artsandlectures.sa.ucsb.edu.