If you happen to have heard the Los Angeles Philharmonic play Felix Mendelssohn's Violin Concerto at the Hollywood Bowl this summer, then you already know all about Ray Chen. On that night, a giant image of this rising violin star flashed across the Jumbotron screens of an 18,000-seat natural amphitheater. But those who missed out are in luck because on Wednesday, October 9, the hero of the Hollywood Bowl comes to the Music Academy of the West's Hahn Hall in the first of UCSB Arts & Lectures' 2013-14 classical-music offerings. The 17,700-seat reduction in the size of the venue will surely only benefit Chen, whose recitals have been universally praised ever since he began touring after consecutive wins in the prestigious Queen Elizabeth and Yehudi Menuhin competitions. Pianist Julio Elizalde will join Chen in a program that features works by Bach, Mozart, Prokofiev, and Sarasate.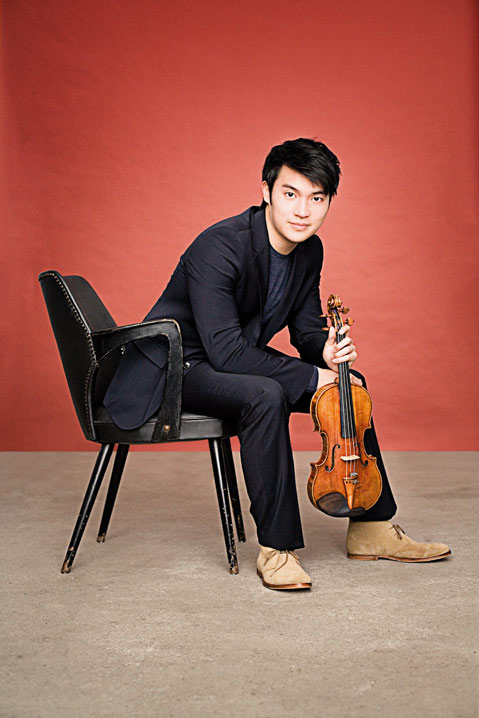 The handsome young world traveler has parlayed his technical mastery, athletic stage presence, and fluency in Italian into a sponsorship from Giorgio Armani and a blogging position with Vogue Italia. How trendy is he? When I spoke with Chen by phone from his home in Philadelphia last week, he was still raving (and blogging) about some of the brilliant meals he'd had recently in Los Angeles. But rest assured; his playing is at least as good as his taste in restaurants and just as stylish as one of his beautifully cut tuxedos.
You're off the road for a moment. Do you think of Philadelphia as home now? I have a personal connection to Philly, and I love the U.S. generally. I'm still Australian, but I have permanent residency in this country.
Did your mentor Aaron Rosand influence you in choosing a romantic style of playing? Even before studying with Aaron Rosand, I was already super into the romantic approach to the instrument. I know that could be a bad thing, but I felt that it worked for me. When I play the music of Sarasate, as I will in Santa Barbara, I think of Aaron Rosand. For Sarasate, his CD is the one. Sarasate is really his thing. I am more old-school-meets-new-school. The style I like is somewhere between Heifetz and Perlman.
Which do you prefer, concertos or recitals? Well, both really, but what I like about recitals is that I get to choose the program. A lot of times with concertos, it's more about what the orchestra needs to play. In a recital, there's no compromise; it shows the personal side of the musician. It's my show.
What were you aiming for in bringing together these works? I wanted to showcase a varied program — baroque, classical, modern — but I didn't choose anything just to fill a category. Even the Prokofiev is still pretty tonal. I'm trying to win people over with this. That's why I love to do outreach. I'm doing master classes at local schools the day after the concert.
And you are diversified, with your writing and other outlets. I believe a contemporary musician's attitude has to be accessible. It's important that musicians be perceived as leading full lives and as being well-rounded people. It's the only way to not just maintain, but to grow the level of interest in our art. That's why I'm such an advocate for bridging classical with other things. I think we need to share our lives more.
4•1•1
Ray Chen performs at Music Academy of the West's Hahn Hall on Wednesday, October 9, at 7 p.m. Call (805) 893-3535 or visit artsandlectures.sa.ucsb.edu for tickets and info.