Living
Historic Flame Tree
An Old Hybrid Gets a Trim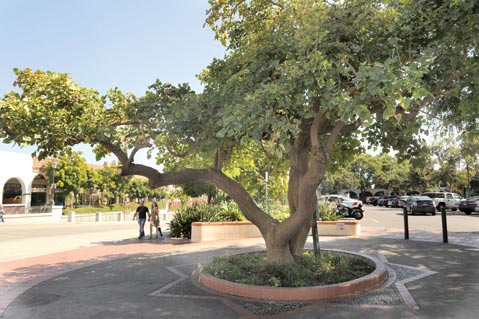 It is not often that the pruning of a tree garners much attention, let alone the kind of publicity that accompanied the recent trimming that Santa Barbara City workers gave to an old tree in Parking Lot 12 (located at the corner of State and Gutierrez streets). It was the fact of its age and history that triggered the press releases and media alert. Known alternately as the Franceschi Flame Tree or the Sexton Flame Tree, it is a very old specimen of a rare hybrid that was growing in the former site of one of Franceschi's nurseries.
Francesco Franceschi was a nurseryman and entrepreneur who spent about two decades at the turn of the 20th century in Santa Barbara but forever altered its (and that of much of Southern California's) landscape by introducing hundreds of new plants to California. Among these new plants were many now-common landscape and food crops including rockrose and grape ivy as well as zucchini. He and his pals, including Joseph Sexton, Kinton Stevens, and others, believed that if they grew plants from other parts of the world, the species would eventually become "acclimatized" and thrive here. The underlying science was faulty, but the benign climate that they were experimenting in meant that quite often, they were successful in their endeavor to establish them here.
Sexton was no slouch as a plantsman; among his commercial endeavors was the growing of pampas grass for the decorative trade, establishing a seed-and-flower shop downtown. He introduced several varieties of cherimoya and avocado, as well as developed and improved a variety of walnut. He is also credited with creating the flame tree in question. It was made by crossing two species of lovely trees native to different regions of Australia, B. acerifolius and B. populneus. Taxonomists have given it the official name of B. × roseus, and it displays a hybrid vigor by topping out at 70 feet in height. It also sports very bright red flowers similar to its B. acerifolius parent and narrow leaves similar to its B. populneus parent. Because it is monoecious, meaning each tree is both male and female, and there are so few in existence, it remains a rarity. Efforts have been made to replicate the cross, but younger specimens are likely the result of vegetative propagation. Cuttings of the original trees (there is another handsome specimen at Sexton's old home in Goleta) are somewhat difficult to root, but it has been done.
The tree in Parking Lot 12 has suffered the ravages of time and the circumstance of being surrounded by asphalt now. It has become weak and diseased. Cuttings were taken in an effort to keep its legacy alive, and vigorous pruning has been done in hopes of coaxing new life out of the healthy parts of the tree. It will be wonderful to pause under its new canopy and remember the fathers of horticulture in our area, including both Sexton and Franceschi.