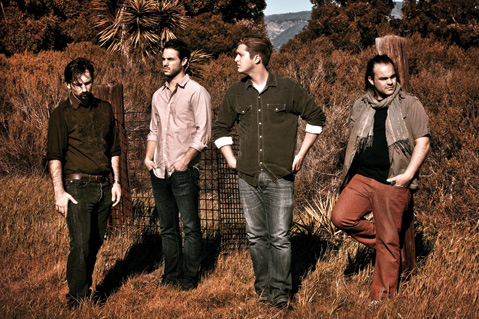 It seems somehow fitting that Erland's pre-show ritual involves evoking the ghosts of musicians past. On tour and at home, the band has made a tradition out of warming up to the tune of "This Train Is Bound for Glory," a time-honored gospel number made famous by Woody Guthrie. Like Guthrie, Erland's music is delivered straight from the gut; the band's crowd-funded debut, On Our Side, is filled with the kind of heart-on-sleeve lyricism and road-weary stories that made albums like Blonde on Blonde and Born to Run American classics.
Born out of frontman Erland Wanberg's solo singer/songwriter roots, Erland the band includes drummer Nate Keezer, keyboardist Marko Srdanov, and bassist Mike Mooneyham. Together, the foursome has elevated Wanberg's dusty jams to sweeping, romantic affairs, complete with pedal steel, shuffling drums, and soaring guitar lines that flirt with a subtle country twang.
In the nine months since On Our Side's release, Erland has given due credence to its wandering-man tales, too: The band recently wrapped up a lengthy bout of touring alongside Andrew McMahon (Jack's Mannequin, Something Corporate), Wanberg's brother-in-law and mentor, who also helped produce the album. Next up, Erland takes to the outdoor stage at next weekend's New Noise Block Party with Haim, Cayucas, and fellow Santa Barbarans FMLY BND. And after that, Erland hopes, the long-awaited record deal. "We've come a long way independently, and I think we're ready to find the right team to help us move forward," he said last week via email.
As the band approaches the close of their biggest year yet, Wanberg recounts more than a few near-misses, including one gnarly onstage sound snafu and a tour-ending whiskey shot that almost fell him. "With no trash can in sight, I had no choice but to find a corner in the shared green room to de-whiskify myself," he recounted. "I had to perform the show with a trash can off stage left. Luckily, I made it through okay."
Still, when asked to sum up 2013 in brief, Wanberg barely hesitates: "It was the best year ever."
Listen online at erlandmusic.net.