Arts & Entertainment
New Noise Interview: He's My Brother She's My Sister
The Fest Welcomes Back L.A.'s Favorite Vaudeville Rockers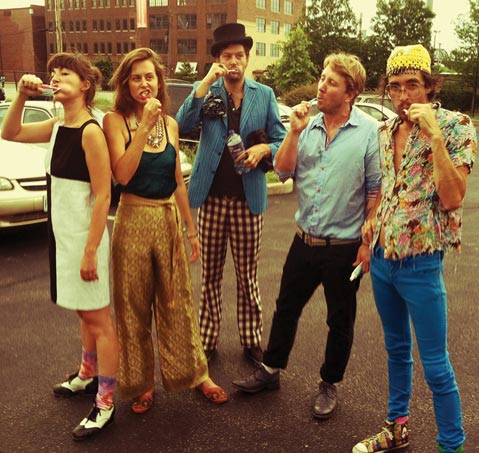 If we had to assign a theme to this year's New Noise lineup, it would surely touch on the importance of family. In the five years since its inception, New Noise has adopted more than a few "favorites"—acts that have played more than twice, repeatedly rocked the house, and continued to return, oftentimes bigger and better, to the little Santa Barbara festival that loved them from the start.
Fittingly, no band embraces that New Noise familial ethos more than He's My Brother She's My Sister (HMBSMS). Since the release of their 2012 album, Nobody Dances in This Town, the L.A.-based quintet have been staying busy — touring the U.K., performing at festivals like Bonnaroo and Austin City Limits, and now making their way across the U.S. The band, made up of bro and sis Rob and Rachel Kolar, tap dancer and drummer Lauren Brown, bassist Oliver Newell, and slide guitarist Ryan Richter, got its start in N.Y.C., where Brown met Rachel, both incoming freshman at NYU. The pair bonded over orientation weekend, forging a friendship that would last well beyond their undergraduate careers. After graduation, Rachel made her way back out west, with Brown joining shortly thereafter.
Musically, He's My Brother She's My Sister all started to coalesce in the California desert, specifically Joshua Tree, a new-school spiritual haven of sorts frequented by everyone from the Black Angels and Edward Sharpe & the Magnetic Zeros to The Whiskey Biscuits and Spindrift.
"It was all of this kind of dark, funky, country western, spaghetti kind of world, and I think that was the inspiration for this project," said Brown, speaking by phone last month. "Rob had his own band or separate bands for most of his adult life, and Rachel and I came from more of a theater background, so [He's My Brother She's My Sister] kind of became this combination of all of those different efforts."
It's a sonic mixture that's stumped so many critics in recent years. The band has been called "glam folk," "garage country," and myriad other labels. As for Brown, she's not so keen on classifying HMBSMS's sound straight away.
"Man, it evolves, you know? I think when we started off, it definitely leaned more in the folk world, but now, now I would say there's a little bit of punk, there's a little bit of vaudeville, there's a little bit of rock 'n' roll and blues," she explained. "It's like a hodgepodge of a bunch of different sounds."
And it's not just the band's sound that's evolving. Slide guitar player Ryan Richter just jumped on board six months ago, following the departure of former bandmate Aaron Robinson, and his presence is changing the live show on a number of levels, said Brown. As the band's often-gushed-over tap dancer, Brown's got moves that have become a staple of the HMBSMS stage setup. Most recently, though, she's taken on a new role in the band: drummer. Brown picked up dancing, like many young girls, at just 6 years old and said that it has always come naturally. Still, drumming while tapping, she admits, is no easy feat.
"You know, so much of what's happened in my life so far has not been planned," she laughed. "You get lost in the zone, and you get to a point where you really don't think it's going to come together, and that's when it works. You prepare, you prepare, you prepare, and then when you get up there, you just do it and let go."
The same could be said for the HMBSMS dynamic. In addition to Rob and Rachel's sibling ties, and Brown and Rachel's longtime friendship, Rob and Brown have been dating for over seven years. During a recent tour stop at the Secret Garden Party Festival in England, Rob finally made it official by proposing to Brown onstage during a performance of "Electric Love."
As far as wedding planning goes, there's already talk of a Santa Barbara ceremony. But for now, Brown is happy to focus on the tour and the band's big three-year anniversary with the New Noise Music Fest.
"I love those guys. They've taken such good care of us, and they've been such supporters of the band. They've helped us establish almost like a family of fans and people that work up there," Brown said. "It's good to walk into a festival knowing that you're going to have fun and you're going to be working with fantastic people."
4•1•1
He's My Brother She's My Sister performs at SOhO Restaurant & Music Club (1221 State St.) on Friday, October 18, at 8 p.m. Call (805) 962-7776 or visit newnoisesb.org for tickets and info.