Briefs
Suicide Prevention Walk This Saturday
Speaker Rob Schwab Talks About His Daughter's Death and Stigma Surrounding Depression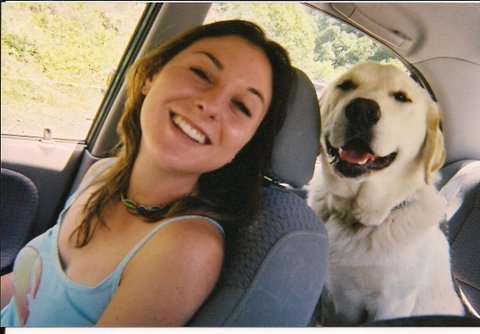 This Saturday, November 2, the American Foundation for Suicide Prevention is hosting its Out of the Darkness Community Walk at Leadbetter Beach. One of the keynote speakers will be Rob Schwab, whose daughter, Tracy, a 25-year-old Santa Barbara resident, died by suicide in 2010; Rob's mother also died by suicide when he was young. Schwab recently spoke with The Santa Barbara Independent about how he is dealing with the deaths and how he hopes that talking about depression and suicide — as he will on Saturday — will help others who are suffering. Below is an edited version of our conversation.
Tell me about your mom and about Tracy. My mom died when I was 13 years old. Her depression was so debilitating that was she bedridden for most of my life. She was a very kind and caring person and had a great sense of humor. Tracy had a wonderful childhood and loved our camping trips, playing the piano, and swimming in the family pool. She achieved very good grades in high school and got her associate's degree from Santa Barbara City College. I do enjoy talking about Tracy's fine qualities as an adult. She was witty, intelligent, compassionate, and pretty. She was a talented artist, writer, and poet. She enjoyed traveling, reading, and music, and the ocean was her sanctuary. She had a positive influence on everyone with whom she crossed paths.
With Tracy, did you see any warning signs? No. I knew she had anxiety issues. I knew that was a part of her later years. Two years prior to her death, her mom died of cancer. That took an immense emotional toll on her. Tracy struggled with the direction of her career. I know that's not unusual, but I know that it really bothered her.
Tracy wrote a poem about her struggles shortly before her death. Tell me about that. It's really something. The first time I read it I couldn't even … I got to about the fourth line, and I just started crying. I had no idea. You'd be surprised how many people have read it and have told me it is exactly how they feel at times but were never able to express it in words. One of Tracy's best qualities was the way she could express herself in words. I found it after her death. If I knew this is how she felt or this was going through her mind, I would have just dropped everything and dedicated my life and as much time as possible to try to help her. Unfortunately with Tracy and so many other people who are suffering, they do not ask for help. That's what's so sad. They're either embarrassed of their depression, or they're just in this deep hole, and they just can't get out of it.
There still seems to be a stigma around depression and suicide. Things are slowly getting a little bit more out in the open, but it's very, very difficult to still see all of the stigma that we have. People do not understand that an illness of the mind is just as debilitating as a physical illness. It bothers me when I see these various other community walks and they've got countless more people participating than our potential lifesaving out-of-darkness walks do. Part of that is the stigma.
What made you want to speak at Saturday's walk, and have you spoken about this before? I started volunteering about six months ago, and at first I was just going to be behind the scenes. Two days later, something just came across me, and I said I've got to do more than that. This will be the third time I've given my speech, and every time I add something that I think is pertinent. I want to try to help other families who have lost loved ones to suicide. I want to try to help people suffering from depression to seek help.
What should people know about depression and suicide? Some of the things I really want to talk about are the hereditary links for those suffering from major depression or those who are bipolar. My mother died by suicide. Tracy's mom was diagnosed as bipolar. Severe depression issues exist in both sides of Tracy's family. This is part of the stigma of suicide: When someone takes their own life, the depth of anguish driving such an act is relentless. It tunnels deep inside a person; it blocks out the light of reason and the joy of life. When someone takes their own life, they're not being selfish — they're focusing only on ending their unimaginable hopelessness. Depression is an extremely serious mental illness.
I'm sure most people can't even begin to imagine what you're going through. Losing a child by suicide is the most devastating tragedy for any parent, and when I first got the news, I cried every day for three straight months. I now know that crying is good for the soul. Any day can bring me regrets and new challenges, and I do realize that I need to honor Tracy's life and not focus just on her final act. Trying to help is a way of honoring Tracy's life. There's no question I'm on a lifelong journey of healing. This helps me take a step forward in that journey.
What has helped you cope? The most important things for me to get through this were the support from family and friends and the suicide loss support group at Camarillo Hospice. I had some individual counseling. Another thing has been hiking and being in nature. For any other family going through the loss of a loved one through suicide, you just can't get through it without a support group and/or individual counseling. It's so overwhelming.
411
Schwab has started a scholarship in Tracy's honor at Moorpark College — Tracy grew up in Moorpark — called the Tracy Schwab Suicide Prevention & Awareness Art Scholarship. The Out of the Darkness Community Walk is on Saturday, November 2 at Leadbetter Beach, from 7:45 a.m.-noon. For more information, visit the American Foundation for Suicide Prevention (AFSP) at afsp.org. Reach the AFSP hotline at 1 (800) 273-TALK. In Santa Barbara, call 1 (800) 400-1572.
—
Below is the poem Tracy Schwab wrote shortly before her death:
Looking Like A Pale Ghost
by Tracy Lee Schwab
Every ounce of energy as I
know it is sucked out of me.
This intangible menace
using me as its host
preying upon my innocent body
into my mind and emotion
what right do you have?
Toying with my precious self
I thought I was strong
I thought I was healthy
Now look at me
What has my life become?
A never-ending struggle to do the
Instinctive, mundane tasks
That should be carefree
But this is what I spend my worry on
Whether I can make it to the next activity,
Task, hour, conversation, smile.
No one knows what it's like
Some think I'm overexaggerating
But I am a strong person and it's finally taking me down
I just want to surrender
Now
Just stop fighting
I don't have any more energy to fight
I want my life back
I want to be able to be myself again
I want to live and be free to do as I choose
I'm tired of it!
I'm sick of it!
How much I loathe this indistinguishable thing.