Sports
Same Dream, Same Game
Special-Needs Athletes Take the Field; Veterans Marathon This Weekend
Sometimes, in the heat of competition and amid concerns over standings and rankings, people lose sight of a vital function of sports — that they're supposed to be fun.
That was not a problem at two Santa Barbara events last weekend. Smiles abounded at the Flag Football Challengers Super Bowl and at the Special Olympics Regional Soccer Tournament.
On the Bishop Diego High field, you could see an autistic boy run for a touchdown, while a cheerleader with Down syndrome waved a pom-pom, and if that didn't warm your heart, you needed a transplant.
"The same dream, the same game," is the motto of the Central Coast Challengers, an organization that provides sports for children, ages 5 to 18, with various physical, developmental, and intellectual disabilities. They are paired up with fully developed peers, a connection that benefits everybody. It started with the Challenger Division of Little League baseball in the spring.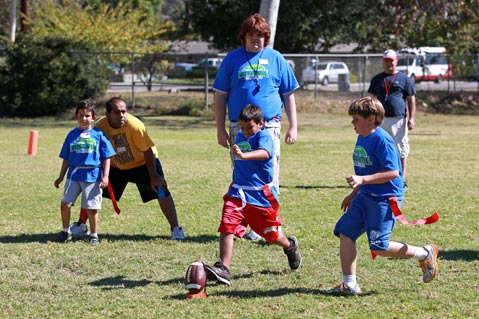 "The kids needed something to do in the fall," said Retta Slay, founder and boardmember of the Challengers. "We chartered the Pop Warner flag football program." It's a non-contact version of the sport, making it safe and fun for the participants, who numbered about 20 this season. "They get it," Slay said. "Most of them watch football with their families."
"This is by far the best thing I've ever done," said Taylor Talkington, who heads the volunteer coaching staff. Talkington was a star quarterback at San Marcos High three decades ago and also a former golf pro at Montecito Country Club. An opportunity to be involved in Challenger sports was an incentive for him to relocate from the L.A. area back to Santa Barbara.
Middle schoolers known as "Dudes on Duty" served as buddies on the field. Saturday's game between the Seahawks and the Colts ended in a 42-42 tie.
There also was a cheerleading squad of six girls and one smart boy. "My son Keaton decided not to play football," Slay said. "He became a cheerleader because he likes to be around the girls."
Santa Barbara hosted nine teams from Ventura to San Luis Obispo in the first Special Olympics Regional Soccer Tournament at La Cumbre Middle School. The concentration and delight in the faces of the 78 athletes gave a new meaning to what the Brazilians call "the beautiful game." Besides short games, there were skills competitions in dribbling, kicking, and passing.
"I love soccer and always wanted to get it going here," said Tim Philibosian, regional sports manager for Special Olympics Santa Barbara. The fall school games on November 22 at Girsh Park will be another opportunity for youngsters with special needs to enjoy competing in soccer.
Helping out at La Cumbre last Sunday were members of the Westmont College women's soccer team. The Warriors, ranked No. 3 nationally in the NAIA, will host a conference tournament match Friday, November 8, at 2 p.m. They hope to open the national tournament with a home match on November 23.
VETERANS MARATHON: Runners of all shapes and sizes will be flooding the streets and bike paths from El Encanto Heights to the Mesa on Saturday morning (Nov. 9) during the Select Staffing Santa Barbara International Veterans Marathon and Half Marathon. It's the fifth year of the event, which started with the marathon in 2009 and, with the addition of the 13.1-mile half marathon a year later, has grown to a capacity of 5,000 runners.
Organizers have embedded "Veterans" into the official title of the event. It gets the weekend of Veterans Day activities in Santa Barbara off to a running start. Hundreds of men and women from the U.S. armed forces will participate, including an elite distance-running team from Nebraska.
The last mile of the course, from Shoreline Park to the finish line at SBCC's La Playa Stadium, has been designated the Veterans Mile. It will start with a drum corps, and 278 U.S. flags will line the way. "We have a T-shirt for the veteran marathoners with the saying 'The first 25.2 miles are for me, the last mile is for our veterans,'" said John Parr, coordinator of the event. He said about a dozen runners from the Wounded Warriors program will be pushing themselves along the pavement. Other features will include buglers, a vintage jeep leading the runners in the early miles, and flyovers of vintage aircraft.
Kenyan runners residing in the U.S. have been first to finish the last four Santa Barbara marathons. Moninda Marube set the course record of 2 hours, 22 minutes, 28 seconds in 2011. Paige Higgins of Littleton, Colorado, posted the women's record of 2:48:34 last year.
Two of Santa Barbara's best marathoners made their marks in last month's Chicago Marathon. Joy Moats finished 27th out of 17,392 female runners in 2:48, while Ramiro "Curly" Guillen lowered his best time to 2:27:14, good for 58th overall. Moats will take this weekend off. Guillen, who intends to run in Boston next April, said he will do the half marathon Saturday as a training run.
MORE FOOTBALL FUN: Laguna Blanca 66, Dunn 64 — it appeared to be the score of an early basketball game, but actually it was the result of an eight-man football game last Saturday. Laguna's Owls qualified for the CIF play-offs, as did Condor League champion Cate — the Rams won a defensive struggle over Thacher, 45-28 — and both schools will host eight-man Division 1 first-round games on Saturday afternoon (Nov. 9). . . . Bishop Diego stumbled to two defeats after a 7-0 start, but don't count the Cardinals out of the upcoming 11-man football play-offs. They will tune up Friday night in their regular-season finale against Mission Prep, an 8-1 team, at La Playa Stadium. . . . Carpinteria, also hoping for an at-large berth in the play-offs, hosts unbeaten Oak Park, which has supplanted Bishop as the No. 1-ranked team in its division. . . . Dos Pueblos can secure a play-off berth with a win at Buena, while Santa Barbara High travels to Ventura with flickering hopes of going into the postseason. The Dons, powered by Cherokee Cunningham's five touchdowns, won the 54th Big Game over San Marcos, 42-28. . . SBCC has fashioned a commendable 6-2 record and will play its home finale at 6 p.m. Saturday against Glendale in the annual battle of the Vaqueros (the nickname of both teams). In a 38-17 loss to Santa Monica last week, SBCC Linebacker Morgan Nevin had an astounding 28 tackles, 10 of them solo.