Arts & Entertainment
Go See Million Dollar Quartet
Musical Dramatizes Amazing Night at Sun Records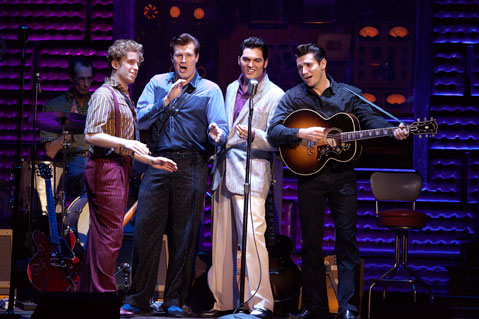 Forget the signing of the Declaration of Independence on July 4, 1776. The greatest gathering of founding fathers in American history was on December 4, 1956, when Elvis Presley, Johnny Cash, Carl Perkins, and Jerry Lee Lewis met and recorded at Sam Phillips' Sun Studio in Memphis. Okay, maybe the bootleg recording of that session isn't quite the Holy Grail it ought to be, but the Broadway musical Million Dollar Quartet goes a long way toward fulfilling the promise of rock 'n' roll's most tantalizing lineup. "They are big blue suede shoes to fill," said James Barry, the actor who plays Carl Perkins in the touring production of Million Dollar Quartet, the hit Broadway show about the early days of rock 'n' roll that comes to the Granada Theatre on Tuesday and Wednesday, November 12-13.
"I first heard of Carl Perkins because the Beatles covered some of his songs, but when I really discovered him, I learned what it is to be tasteful, to solo with restraint — and what it means to be a face-melter on guitar." Barry is just one of four performers charged with not only acting the parts but also playing the instruments and singing the songs of four of music's most iconic artists. Along with John Countryman as Jerry Lee Lewis, Tyler Hunter as Elvis Presley, Scott Moreau as Johnny Cash, and Vince Nappo as Sam Phillips, Barry will take the stage in order to fulfill the promise of early rock 'n' roll to commit revolution — 45 of them per minute.
Tyler Hunter, an experienced Elvis impersonator at the tender age of 23, had this to say about his character's mentor, Sam Phillips: "Elvis was a young kid when he walked into Sun, and Sam was good at bringing people out." The show traces the crisscrossing lines of envy, rivalry, and betrayal that followed when the first Sun artists started signing to major labels. The fortunate thing for audiences who see the Million Dollar Quartet is that, although it dramatizes these fallings-out, in order to do so, it brings these great performers together.
For tickets and information, call (805) 899-2222 or visit theaterleague.com.