Sports
S.B. International Marathon
Runners Pound the Pavement at the Annual Race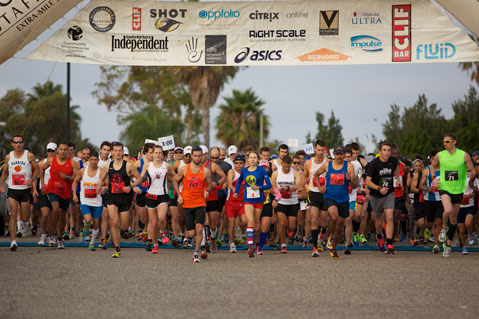 Running from Goleta's fields to Santa Barbara's shoreline might not have been the toughest chore of the day. Try standing on a street corner and clapping for five hours during the Select Staffing Santa Barbara International Veterans Marathon and Half Marathon.
"It's hard on the hands," said Tina Nelson, a volunteer course monitor for the fourth consecutive year. She and Laura Gowdy, who has worked all five marathons, watched the runners stream along Modoc Road at the intersection of Calle de los Amigos last Saturday. They applauded, rang a cowbell, and offered verbal encouragement.
"Looking great, ladies."
"Good job, guys."
"Doing awesome!"
Both women are runners themselves. "You know it means a lot for them to hear from volunteers and spectators," Nelson said.
Also on duty at the intersection were three uniformed police officers. They let motorists make left turns across Modoc only when oncoming runners were a safe distance away. "I'm glad the police are here," Nelson said. "If it's just us, [the drivers] wouldn't pay attention."
Residents had been forewarned by signs and mailings that there would be traffic delays during the run. "There's less traffic every year," Gowdy said. "People are getting used to it." She talked to some drivers as they waited their turn to cross the road. Only one gave her a hard time.
"Thank you," many of the runners said as they saw the vehicles being restrained at the intersection.
Other volunteers, including high school athletes and fraternity and sorority members, manned aid stations along the course. A Hawaiian dancer swung her hips, and a string quartet played for several hours at Shoreline Park.
ANKLES AWEIGH: The Veterans Day theme meant a lot to Santa Barbara resident Cindy Emery, 57. She needed plenty of hydration during the marathon because she shed tears at the memory of her father and uncle, both Navy men who died in the last year. "Running heals the heart," said Emery, who completed her first marathon along with her daughter Lauren, 23. "When they hand those little flags to you, and you see all the flags in the last mile, it's emotionally overwhelming."
Emery's son, Austin, also is in the Navy. "He's stationed in Guam," she said. "He left a message on the cell before the race. While we were running, people would say, 'Go, Navy girls.'" The pair finished in 4 hours and 26 minutes. "The last three miles were tough," Emery said. "I was a zombie mommy at the end. I have sore muscles everywhere. But I'm upright and walking."
The Navy girls raised more than $700 for the Wounded Warrior program.
FAST AND FINNISH: Even on one of his slower days, Peter Kemboi was too fast for the rest of the marathoners, and his overall victory in 2:32:08 was the fourth straight Santa Barbara triumph by runners born in Kenya. The elite performance of the day was turned in by 21-year-old Elisa Karhu, a native of Finland, another country with a history of great distance running. Karhu, who has lived in the U.S. for nine years and became a citizen a year ago, was the third marathoner across the finish line. Her time of 2:42:42 was almost six minutes faster than any other woman has run here.
Her halfway time was sub-1:20. "I was kind of freaked out," said Karhu, not sure her compact body would hold up for 13 more miles. But she was able to keep her legs moving in a steady rhythm. "It's a beautiful course," she said. "It kept me engaged."
Karhu's time met the "B" qualifying standard (2:43) for the 2016 U.S. Olympic Marathon Trials. To reach the "A" standard, which would assure that her traveling expenses would be covered, she'll have to clock 2:39 or better. Her life for the next three years will be training and studying. After graduating from UC Berkeley with a degree in biology, she intends to pursue medical school.
SATURDAY NIGHT FEVER: There was a different kind of marathon in UCSB's Thunderdome, where volleyball players were running and diving to the floor, into the scorer's table, and into the stands, desperate to keep the ball in play. The Gaucho women's team took No. 12-ranked Hawai'i to the limit in a five-set thriller. A key blow was struck by Hawai'i junior Sarah Mendoza, a Santa Barbara High grad, whose serve at 11-10 in the fifth set eluded the Gauchos. The Rainbow Wahine prevailed, 15-12, ending UCSB's eight-match winning streak. First-year coach Nicole Lantagne Welch's Gauchos still are second in the Big West, a match ahead of Hawai'i and one behind 21st-ranked Cal State Northridge, where they will play Saturday (Nov. 16). … Meanwhile, at Harder Stadium, a crowd of 12,805 turned out to see if the UCSB men's soccer team could extend its unbeaten streak to 11 games at the close of the regular season. That they did, with late goals by Goffin Boyoko and Charlie Miller for a 2-0 victory over Cal Poly. The Gauchos, already assured of an NCAA berth on the basis of their record, will host a Big West Tournament semifinal match on Friday night (Nov. 15). UCSB reaped nine all-conference citations this week, including Coach of the Year (Tim Vom Steeg) and Freshman of the Year (Ismaila Jome). … Another exciting show was the screening of a five-year-old video from the Beijing Olympics. It's always amazing to watch Jason Lezak overtake the French world-record holder in the final strokes and lead the U.S. to victory in the 4×100 freestyle relay. Lezak's split of 46.06 seconds remains the fastest a human has ever been timed. The 1999 graduate of UCSB, who earned four gold medals in three Olympics, received the Distinguished Alumni Award on Saturday. "I couldn't have done it without my UCSB experience," Lezak said. He recalled how he butted heads with Gaucho coach Gregg Wilson and was dismissed from the team. "It made me stronger," said Lezak, who devised his own plan to regain the trust of the coach. "I changed my attitude."