Books
Book Review: Reign of Error
The Hoax of the Privatization Movement and the Danger to America's Public Schools
Eminent historian of education Diane Ravitch's timely and well-researched new book is a clarion call to parents, teachers, and public school administrators to rethink the so-called "reform movement" in education that moved into public policy with "No Child Left Behind" and Obama's disastrous "Race To The Top" policies.
Ravitch, a professor at NYU and author of 10 previous books on public education, has been called "The architect of school reform who turned against it" by a recent Atlantic reviewer, and she scathingly denounces private charter schools, Teach for America, private philanthropists like Bill Gates and Eli Broad, and the idolatry of standardized testing. Where she once believed that market forces and school choice would improve public education, she now contends these movements have plunged off the rails and are wrecking our schools.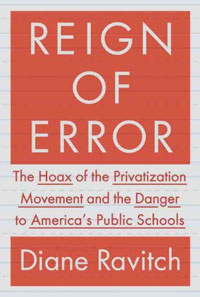 Ravitch asserts that American public schools–at least in affluent and middle-income areas–serve their students very well, contrary to popular myth propounded by the reformers (chapters 6 and 7). These largely corporate reformers have been heavily financed by the likes of the Anschutz family, Amazon's Jeff Bezos, and Rupert Murdoch. Ravitch writes that to these corporate reformers "class size doesn't matter."
How does the debate over reform apply to the new Common Core standards being foisted upon us in California and Santa Barbara? Class-based achievement gaps exist in many countries, but the U.S. is the most stratified. Ravitch restates what all educators have realized: The economic status of the child's family is by far the greatest predictor of success in school. If we wish to improve the child's learning and alter her life trajectory it depends on "breaking up heavy concentrations of low-income minority children in urban schools," she assers.
Ravitch implores us to mix up the kids economically, reduce class size, honor the teachers, downgrade standardized testing, and shrug off technological solutionism. Why not recall the iPad 1:1 roll-out program for January 2014 at Adams, Franklin, Washington, and La Cuesta and use this money to reduce class size?
4•1•1
Reign of Error: The Hoax of the Privatization Movement and the Danger to America's Public Schools (Knopf, 2013) is available at amazon.com.