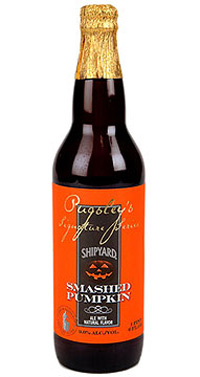 Shipyard Brewing Company's Smashed Pumpkin Ale: If you read this recent review, pumpkin beers are certainly not my thing, and, I'm pretty sure, not really beloved by many people at all, despite their annual appearance around this time. So the Smashed Pumpkin was pretty much doomed since its conception, in my book, but I did find this to be at least a near-perfect representation of pumpkin pie in a bottle, con gas, and a tad more drinkable with a lemon.
If someone like Shipyard's renowned brewer Alan Pugsley, who includes this in his "signature series," can't make pumpkin sing, then maybe we should just drop it as a beer type completely?
Available, if you still want it, at Bin 2860 in Los Olivos. See bin2860.com and shipyard.com.