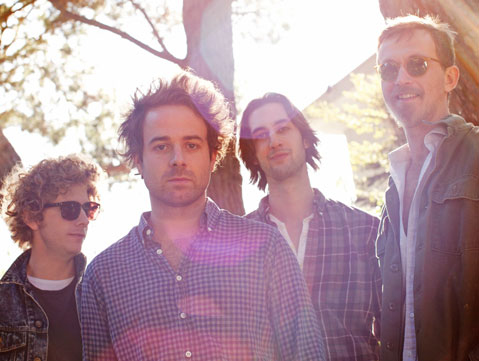 Dawes have long carried the stamp of their Los Angeles heritage. The band's debut, 2009's North Hills, was named for their San Fernando Valley hometown, and their style — a warm, guitar- and piano-tinged take on folk and Americana — can easily be traced back to Laurel Canyon's musical heyday. Still, 2012 found the men of Dawes — brothers Taylor and Griffin Goldsmith, Wylie Gelber, and Tay Strathairn — heading east, where they teamed up with producer Jacquire King (Tom Waits, Modest Mouse) for their third and most contemporary sounding album to date, Stories Don't End.
"With Jacquire," said Taylor, "we were able to hold onto an essence of what we had been, but I feel now, more than with our first two records, that this makes a case that we're a band from 2013. There are a lot of bands that harken back to a period or style of a different time and that can be really limiting. That was never our intention."
This Wednesday, December 11, Dawes return to Santa Barbara to headline the newly reopened Lobero Theatre. Below, Taylor Goldsmith talks songwriting, favorite venues, and the making of Stories Don't End.
You guys took some big leaps for the new album. Were there certain things you were hoping to accomplish or improve upon going into recording? I mean, yes and no. I think it's easier to pinpoint those kinds of things when you're a solo artist. You write a song; you know what you want it to sound like. With a band like ours, it's more about the collective. It's important everyone feels expressed and represented. What I really love about this album is that it sounds like Dawes. As the years go on, our identity is becoming more and more pronounced. This might sound weird, but I feel like when we write songs now, they feel like no other band could have written them and made them sound like they do. Does that make sense?
I think so. What led you guys to Jacquire King? Well, we met with a lot of people. We had worked with Jonathan Wilson, who is an amazing producer and musician, but we thought it was time to give someone else a try; and Jonathan is so busy doing his solo thing right now. We ended up going with Jacquire because he seemed to understand our dynamic. Every band has their challenges and things they struggle with, and he got it.
You guys went to North Carolina to record. How was that experience? It was really good. It was beautiful. We were at this studio in Asheville called Echo Mountain Recording. It was very green and located in this historic neighborhood. The studio had these big windows. It was a really positive experience. Some days we went in knowing what we were going to get, and we got it. And other days we were messing with arrangements and reworking a song because we realized that something didn't work or didn't feel honest. But some of those songs ended up being some of the favorites on the album.
As a songwriter, does location play a pretty big role in the way you work? Yeah, for sure. I think there are ways a place can sneak its way into a song, or a feeling that you take into the studio. For me, I definitely like quiet; I like to write alone. I don't really work on songs when we're touring because there's just too much other stuff going on. I don't want to be that way about it, though. I'm not an insanely private person.
Finally, you guys are some of the first to play in the newly reopened Lobero. Are there venues that you really look forward to going back to? Most definitely. The Beacon Theatre in New York is one, the State Theatre in Portland … but I'm really excited about coming back to Santa Barbara and playing a bigger room. We've played SOhO, and it's always been great, but I'm also really looking forward to having some extra room to stretch out.
4•1•1
Dawes play the Lobero Theatre (33 E. Canon Perdido St.) on Wednesday, December 11, at 8 p.m. with Blake Mills. Call (805) 963-0761 or visit lobero.com for tickets and info.