Visual Arts
Hamlet Through the Eyes of an Artist
Delacroix Takes on Shakespeare at the Santa Barbara Museum of Art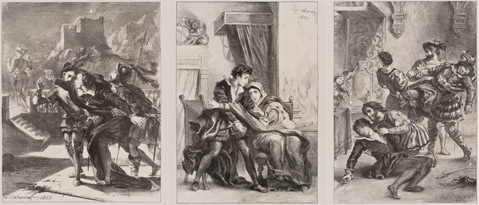 The death of Ophelia is unquestionably one of the most chilling moments in Hamlet. The thought of the prince's beloved lying in a brook, drowning — perhaps by accident, perhaps a suicide — is heart-wrenching.
The thing is there's no such scene in the play: The circumstances of her death are merely announced and discussed. Any visuals we have of the poor girl in the water were formed in our own imaginations, prompted by the vividness of both the character and Shakespeare's language.
This unparalleled ability to conjure images through the use of words was particularly inspiring to Eugène Delacroix, one of the greatest French artists of the 19th century. He lovingly referred to Shakespeare's Richard III as "a living painting" and depicted key moments from the plays in a number of his works.
Arguably his greatest accomplishment along these lines is his Hamlet suite, a series of 16 lithographs on display through January 26, 2014, at the Santa Barbara Museum of Art. The images depict such key moments as the play-within-the-play, the murder of Polonius, and the aforementioned death of Ophelia. The latter wasn't depicted onstage, but he saw it in his mind's eye and rendered it with stunning beauty and immediacy.
"There's slowness to this scene — almost purposefulness," notes Elizabeth Saari Browne, the curatorial exhibition intern who has spent most of the past year working on the Delacroix exhibit. "She seems to be slowly melting into the water."
Browne, who will give a guided tour of the Hamlet series on Thursday, December 12, at 6:30 p.m., is full of both knowledge of and enthusiasm for these remarkable works, created when lithography was still a new medium. Created over a period of nine years (1834-43), the best of them do with lines and shadings what Shakespeare did with words: beautifully convey the characters' mixed emotions and deep ambivalence.
For example, check out the image where Hamlet is confronted by the ghost of his dead father. The prince is leaning back a bit; he seems to be reeling, which makes sense for someone who has just met his dead father. But his cloak, which is flung around his shoulders, appears to be pointing straight at the apparition, seemingly propelling him forward to meet his fate.
Like many Frenchmen of his era, Delacroix was fascinated by English culture in general and Shakespeare in particular. And although the captions under the lithographs are in French, Browne has no doubt he was working from the English text. The French version then in circulation was a free adaptation in which characters were altered or excised and Hamlet lives in the end.
Not so in this series of lithographs, the last of which is a harrowing scene of the end of the play, with so many characters dead or dying. One can almost hear their wails of agony. Bonne nuit, sweet prince.