Living
My Life: Christmas Farolitos
Santa Fe, New Mexico, Lights Up for the Holidays.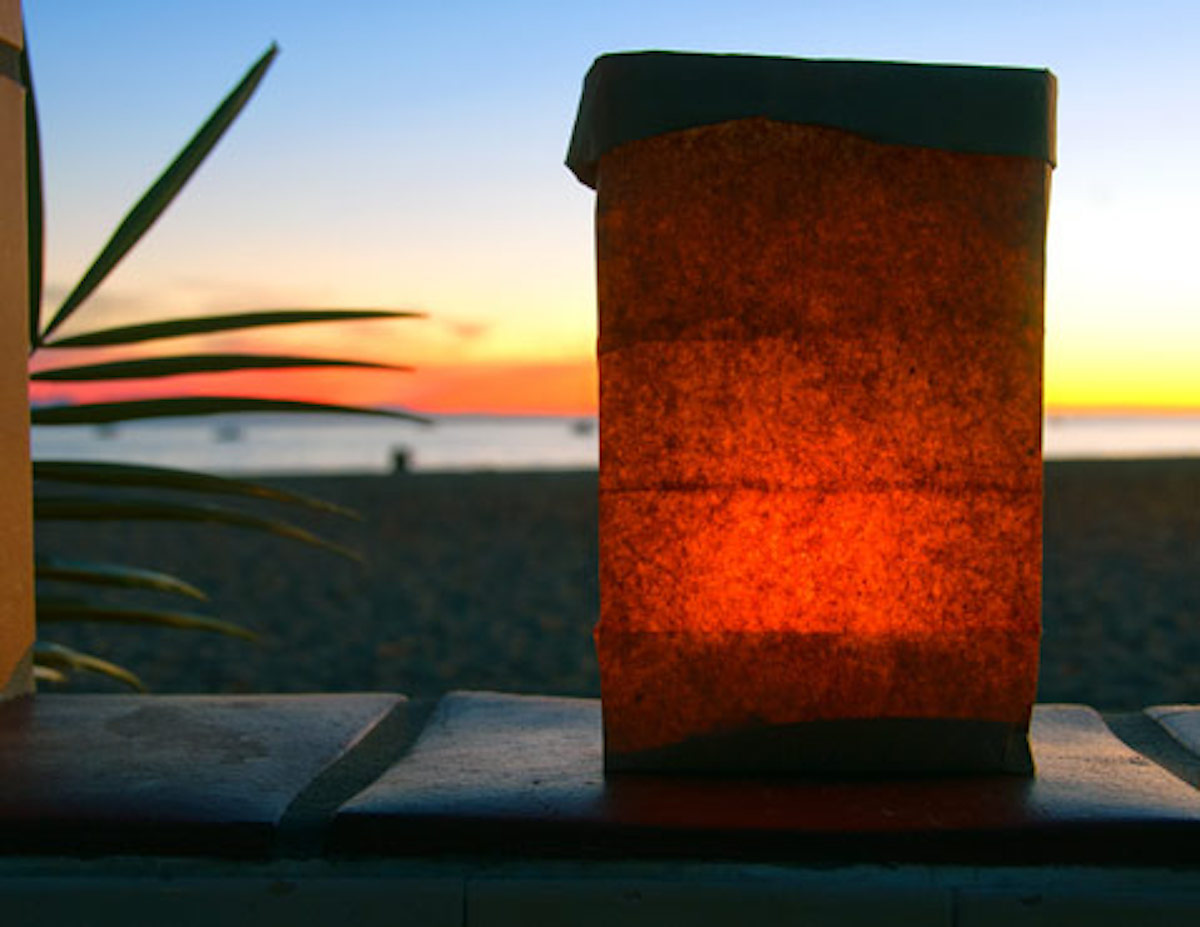 The nighttime air was so frosty I could see my breath, which only added to my already festive spirit. Lacy snowflakes drifted softly from a dark sky, first disappearing into the pavement, but eventually sticking and accumulating on adobe homes and shops with brightly painted doors and red chili pepper ristras. It was Christmas Eve and I was in Santa Fe, New Mexico, with my son, Karl.
I hoped we could participate in the annual event: At dusk, crowds of tourists and residents gather in the historic district and then walk to the base of Canyon Road. They gradually make their way up the steep incline guided only by thousands of twinkling farolitos ("little lanterns"). I wanted us to sing with the carolers as they cluster around bonfires of piñon logs sipping cider but at age 77, walking on the broken pavement at 7,000 feet altitude was more of a challenge than I remembered.
While holding Karl's arm, I stared down into one flickering hand-lit candle, anchored in sand in a simple brown paper bag. Mesmerized by the mellow glow, I tried to remember my first Christmas in Santa Fe. What was it like to be 30 years younger when I moved there in 1982?
Sometime before my first Christmas in New Mexico I made the mistake at work of calling the little candles luminarias ("little fires") and was swiftly corrected, "Only gringos call them luminarias. In Santa Fe they are farolitos." This gringo has always remembered and never made the mistake again. They were farolitos when I moved to Arizona and they are farolitos now that I live in California, even though most people don't have a clue what I'm talking about.
In Santa Fe, the farolitos versus luminarias debate is taken quite seriously, as I learned. The two words are often confused by well-meaning writers and tourists. Farolitos have become very popular, especially in Santa Fe, while luminarias are disappearing fast.
Luminarias are connected with early shepherds in the Holy Land who had bonfires to keep warm and scare away predators. These fires were present at the first Christmas. Their history dates back even further when pagans lit huge bonfires on hills to celebrate feasts dedicated to their gods. When Christianity was brought to Spain this pagan custom was embraced by the new religion. Conquistadores and Padres introduced luminarias to Mexico.
---
Sign up for Indy Today to receive fresh news from Independent.com, in your inbox, every morning.
---
On one of my many pilgrimages to Santa Fe I attended a lecture about its Christmas traditions and learned that farolitos have a more recent origin: a gift to New Mexico from the Philippine Islands. During the time of the Spanish Empire there was much trade between the Spanish Philippine Islands and China. For centuries the Chinese used festive lighting and Spanish traders eventually brought the concept to Mexico. Mexican artists turned the lantern idea into beautiful art. When the fragile lanterns were brought to New Mexico they only lasted one season in the more extreme weather. It was only when stronger brown paper bags arrived, used by traders on the Santa Fe trail, that the idea of using them for holiday lanterns evolved.
The simple but humble beauty of the little festive lights epitomizes the true meaning of Christmas for me and also evokes a lot of wonderful memories. I remember leaving church on Christmas Eve and stepping into a winter wonderland after a fresh snowfall with glowing farolitos lining the sidewalks and streets. I remember driving home on snow-packed roads between meandering adobe walls lined with luminous brown paper bags. When we got home I watched from the living room window as Karl lit our very own farolitos on the wall enclosing our small home, running inside every few minutes to warm his hands.
When our table was ready at the restaurant, I held Karl's arm and gingerly tested wet spots on Canyon Road's sidewalk with my boot to be sure they weren't black ice as we made our way slowly back from a very short walk. The wine and dinner was delicious as advertised. The Compound is a Santa Fe landmark restaurant on Canyon Road, that I couldn't afford when I lived here as a single parent. Now it was another Christmas Eve and 22 years have passed since I moved away. The affordability issue was no longer a problem: This time Karl was treating.
Where we stayed
Inn at Vanessie, www.vanessiesantafe.com
Where we ate
• The Compound www.compoundrestaurant.com
• Tia Sophia's, 210 W. San Francisco St. (505) 983-9880
• Tomasita's, www.tomasitas.com
• Coyote Café, www.coyotecafe.com
---
Support the Santa Barbara Independent through a long-term or a single contribution.
---