Visual Arts
Heads Up at the Arts Fund
New Works by Henry Rasmussen, Robyn Geddes, and Tracy Kahn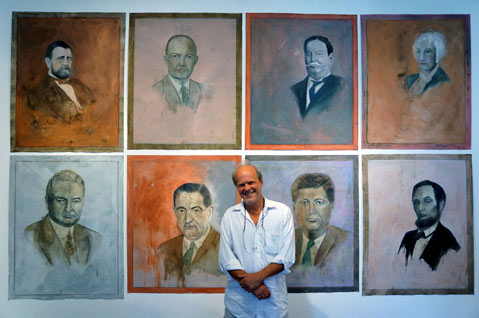 HEAD SHOTS: Henry Rasmussen comes to painting from a varied and comprehensive background in graphic design and photography, and in Heads Up: Beauty, Angst, and Power, the current show on exhibit at the Arts Fund (through January 4), he's taken on one of the photographic world's most common genres: the portrait or headshot. But there's a giant difference between these paintings and your typical 8×10 glossy, because these headshots are of "Victims and Victimizers," and include four successive large images of "Bomb Blast Bystanders." On one level, the violent subject matter is a way to naturalize what's happening with the paint, which Rasmussen smears across the surface in thick layers, leaving behind accidental ripples and gaps, suggesting the horizontal force of a sticky roller… or the impact of a bomb. The correlation between surface and significance in these works creates a kind of alternating current of meaning — one second it's on, and the next it's off. As in the theme of the larger series, the roles are reversible, with victims sometimes becoming victimizers. For Rasmussen, painterly abstraction both does and does not equate to destruction and pain. Like the great portraits of popes and cardinals by Francis Bacon, these powerful, uncompromising images burn through the retina and leave an indelible mark on one's memory.
In an effort to complete this examination of "Beauty, Angst, and Power," as the show's subtitle has it, curator Nancy Gifford has marshaled work from two other very interesting artists who have recent series involving portraiture. Painter Robyn Geddes continues to discover new ways of making familiar things exciting and strange. His Presidential Portraits are just that; traditional images of American presidents painted without additional symbolism or overt editorializing. The unusual part is how they were produced, which in turn affects how they are presented. These carefully rendered representations of Kennedy, Lincoln, et al. were put on large sheets of paper with ordinary house paint, and left to dry on the artist's studio floor. At the Arts Fund Gallery they are pinned to the wall without frames or backing, their conservative and "powerful" content thus couched in the most casual and ephemeral of displays. Again we face the irreconcilable choices obtaining within the genre of portraiture. Every image of a human head is always also at remove from the thing itself, and thus one step closer to the trash bin. Even for someone with a historical legacy, the headshot remains distinctly disposable.
Finally, there are the photographs of Tracy Kahn, which seem to come from an entirely different universe, yet they seem to play a key role in this fascinating dialogue. Her images of beautiful women partially obscured by clouds of pigment recall the sideways bomb blasts of Rasmussen's larger, more totemic paintings, but they also imply a shrewd sense of photography's indebtedness to the materials that make all visual art possible, in particular the powdery dust that colors our artificial world of printed images.