Business
Business: Phone Halo
Santa Barbara Company Unveils Its Latest Gadget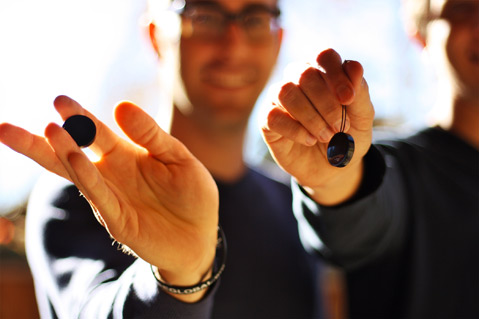 Three years after launching the start-up Phone Halo, Christian Smith and Chris Herbert are about to unveil their newest gadget: the Glasses TrackR. In that time, the Santa Barbara–based technology company has released multiple products — including the water-resistant Wallet TrackR, StickR TrackR, and inSite — that help people find lost wallets, keys, and other valuables via a smartphone app.
Smith and Herbert's rationale is that people often misplace common items so the founders discovered a high-tech way for users to easily locate their valuables. They invented tracking devices that slip into wallets, stick on keys, and attach to the frame of eyewear. The app, TrackR, locates the lost item by "ringing" them or by indicating their distance from the phone. Likewise, users can find their cell phone by pushing a button on the device. Their products sell online for $30-$40.
This week the team is in Las Vegas at the annual Consumer Electronics Show (CES), a convention where dozens of companies pitch the newest and grooviest tech gadgets to the more than 150,000 attendees. The so-called "Internet of Things" — objects embedded with sensors that connect to computers and smartphones — are expected to take the cake this year, but the event displays everything from cars to Chromebase, an all-in-one desktop similar to Mac computers. According to the Los Angeles Times, analysts say that by 2050, every person, including children, will own five gadgets.
Smith and Herbert were "hardcore surfers" and mechanical engineering wonks at UCSB six years ago — back when "no one understood your phone could run apps." After their friend was running late because he had misplaced his phone, the pair had an "aha" moment. A lot of elbow grease and a couple of years later, they founded their award-winning company.
Now, working out of a downtown office in Santa Barbara, the small tech company has 60,000 customers and a couple of Santa Barbara–based investors. "You don't need many employees, but they all have to be good," said Mike Panesis, one of their area investors and vice chair of Tech Coast Angels. Panesis, who also manages the Technology Management Program at UCSB, has become a mentor for Smith and Herbert. He explained that copious resources and considerable talent at UCSB contribute to Santa Barbara's start-up culture and future potential. "Santa Barbara is a great place to have a life," Smith added. Although its tech culture is not as booming as it is in places like Colorado or San Francisco, Santa Barbara is home to numerous start-ups including FindTheBest, Sonos, RightScale, AppScale, and Invoca.
To help build their company, Phone Halo utilizes Indiegogo — an international platform for small companies with big ideas to create campaigns to raise money — and has worked with Cobra Electronics, a designer and marketer of mobile communication products all over the world.
Glasses TrackR made it to the 2014 top 10 list on Last Gadget Standing, a website that looks for products that are "more than just a flash in the pan." Other contenders are Galaxy Gear (a smartphone that can place calls and compose messages via voice call) and an app that gives users the ability to lock their smartphone. They have won several awards including the DEMO Gods Awards in 2010, the Popular Best of CES in 2012, and CES Innovations in 2012, 2013, and 2014.
4•1•1
TrackR devices are available online at www.wallettrackr.com, stickrtrackr.com, and Amazon.