Theater
Worth the Drive: A Word or Two
Christopher Plummer's Splendid One-Man Show Plays Through February 9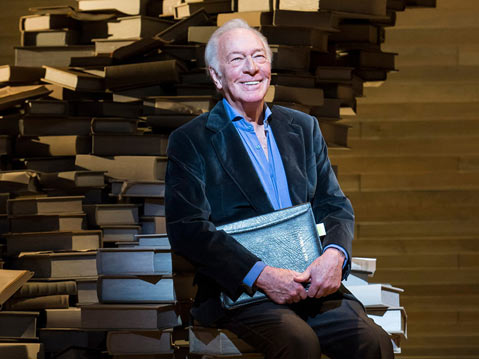 Christopher Plummer allows himself a single curmudgeonly moment during his mesmerizing solo show A Word or Two. Toward the end of the 80-minute performance, he frets that "In a Twitter world … I fear great language is in danger of extinction."
The legendary actor is fully aware he can't stop that process, if indeed it is happening, but he's determined to remind us what we'll be missing. He does so with a fluid mix of personal anecdotes and readings from his favorite authors, which unfolds gracefully into a sort of literary autobiography.
Perched against a pile of books that rises to the sky in a gentle spiral (Robert Brill designed the set), Plummer begins with the volumes that first captured his imagination as an only child (including Lewis Carroll's Alice in Wonderland). As he grows up, he delves deeper into the classics, using their language to understand and articulate his feelings as he discovers the pleasure and pain of love, art, and alcohol.
He looks back on it all with wry bemusement, puncturing his youthful pomposity with barbed one-liners. He jokes about how his head swelled while playing Hamlet, then shows us in a speech from that Shakespeare masterpiece why his portrayal of the role remains one of the best. Brief excerpts from Shaw's Man and Superman and Rostand's Cyrano de Bergerac prove even more moving — illustrations of man's deeply flawed nature, as well as his potential for nobility.
A Word or Two may be a farewell of sorts, but it's hardly funereal: It has been a while since I've seen a stage show this thoroughly entertaining. Plummer's a connoisseur of wit, and he consistently makes amusing lines even funnier with his perfect comic timing. His brief, sharp impersonations keep the audience giddy with anticipation of what accent or attitude he will assume next.
Created by Plummer and directed by Des McAnuff, the show, which premiered two years ago at the Stratford Festival in the actor's native Canada, is amazingly tight; there's barely a wasted word. It's as if Plummer, still remarkably energetic at age 84, isn't about to waste our time or his own.
So don't expect any anecdotes about The Sound of Music; he'd much rather illustrate the power of Vladimir Nabokov's prose. His show is a lively reminder that, in the hands of a master interpreter, great writing can simultaneously be profound, intensely dramatic, and a whole lot of fun.
4•1•1
A Word or Two continues at 8 p.m. Tuesday-Thursday and 3 p.m. Saturday-Sunday through February 9 at the Ahmanson Theatre (135 N. Grand Ave., Los Angeles). Call (213) 972-4400, or visit centertheatregroup.org for tickets and info.