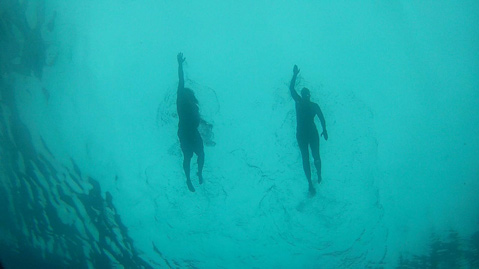 An in-depth look at the radical rigors of marathon swimming, Driven, made by Santa Barbarians Brian Hall and Ben Pitterle and filmed predominately in the S.B. Channel, manages to wow with its story line while simultaneously mesmerize with its cinematography.
Fire off some adjectives that best describe the athletic madness that is marathon swimming.
Defiant, heroic, foolhardy.
How did you guys first come across this story?
In 2006, I was asked to be a support kayaker for Ned Denison, a man attempting to swim 20 miles from Santa Cruz Island to Oxnard. I just thought it would be a cool opportunity to paddle across the Channel, but when we actually got out there I quickly realized that I was witnessing something extraordinary. Starting a 20-mile swim, without a wetsuit, in the middle of the night, out at the island with sea lions barking and who knows what lurking beneath us — this was not for the faint of heart. The rest of the swim played out in true dramatic fashion.
One of the coolest parts is how the Santa Barbara Channel itself is also a star. Tell me a bit about that process.
The rules of marathon swimming prohibit wetsuits or support gear of nearly any sort. Goggles, speedo, and swim cap; that's all that's allowed. Marathon swimming fully immerses and exposes its athletes to the elements in a way unlike any other competitive sport, so the Channel is a central character in this film. The cold, the dark, the wildlife, currents, wind chop, and vastness of the open ocean — these are all elements that each swimmer must overcome both physically and mentally.
What were the challenges you faced in crafting this documentary?
Every step of production was a challenge. I can say though that my biggest fear throughout the project was whether or not we could create a story that was compelling to everyone, not just swimmers. Swimming isn't a spectator sport! This film needed to be about much more than that. In the end, I'm happy with how it turned out.
Had either of you guys done anything like this before?
Brian Hall (co-director/producer) has lots of experience in the filmmaking business as a cameraman and editor. I went into this with zero professional experience, and if you asked me three years ago if I'd ever make a film that would be selected to the SBIFF, I would have suggested you must be confusing me with someone else. I had little idea what we were getting into, but in many ways, I think that was a big advantage. I didn't know enough to talk myself out of trying or to think things had to happen in any certain way.
That would be my biggest piece of advice to film students or anyone afraid to take a leap into a big creative project: Don't get bogged down by the big picture or by self-doubt. There is no "right" way. Find what works for you, be confident in your vision, and just do it!
What surprised you the most along the way?
I had no idea how tightknit and vibrant the international marathon swimming community was, and I could never have imagined the level of trust and support that they would give to us throughout the project. Without question, this film would not have happened without their support.
Any plans to start doing crazy long swims yourself?
Ha! I'll admit that there was a BRIEF couple of weeks during production when I may have contemplated something like that as a possibility, but man, I'm a skinny dude, that water is cold, and swimming in the ocean at night FREAKS me out! Let's just say I don't have anything on the calendar just yet.
Check the latest schedule here.