Film & TV
Films to Find
Our List of Critic's Picks and Buzzers-to-Be
We haven't seen every film at SBIFF 2014 yet, but our team was able to screen more than 50 of them over the past couple weeks to deliver this cheat sheet of what to see and why these next 10 days. This year, we are breaking down our suggestions into two categories: Critics' Picks, which are a mix of simply excellent films, examples that exhibit cutting-edge cinematic techniques, and/or feature thought-provoking storylines; and Buzzers-to-Be, which are films that we feel will rise in popularity during the festival and/or spark conversation due to their audience appeal and/or controversial content.
Critics' Picks
Adria Blues
WHAT: Eclectic characters assembled at musical hotel reveal the lingering pains of Bosnian war with hope from humor and rock 'n' roll.
WHY: Poignantly funny insights into how lives change and stop due to long-ago wars, with smart writing, solid acting, and a one-of-a-kind setting.
Bottled Up: The Battle Over Dublin Dr Pepper
WHAT: Big Soda takes on a small Texas town's bottling plant, which had popularized Dr. Pepper for 120 years, become a tourist hub, and stuck with real sugar when everyone else when corn syrup.
WHY: See how enraged the entire state of Texas becomes in this David versus Goliath saga of corporate stupidity and small-town pride.
The Broken Circle Breakdown
WHAT: Scruffy banjo player and saucy tattoo artist fall in love, start a family, front a bluegrass band.
WHY: Stunning acting by both leads makes this bittersweet tale about love, loss, and music hit painfully close to home. Think Blue Valentine meets Once.
Cannibal
WHAT: A tailor who likes to eat women, literally, finds himself conflicted over his next prey.
WHY: Likely the most tender take ever on the nasty habit of human consumption is a calculated, methodical thriller.
Le Chef
WHAT: A gifted but stubborn young chef takes a job underneath an aging culinary legend.
WHY: This live-action spin on the Ratatouille tale offers two solid hours of laughs ​— ​and a whole lot of mouth-watering food porn.
Chu and Blossom
WHAT: Korean student must find his way alongside odd friends in small-town America.
WHY: With equal parts cuteness and intelligence, this is an often hilarious and beautiful analysis of Asian work ethic versus the artistic freedoms and independence promised by America. Expertly acted.
Cold Eyes
WHAT: Elite Korean police force chases robbers with technology.
WHY: Inventive, video-game–like cinematography makes us ponder camera-equipped cities.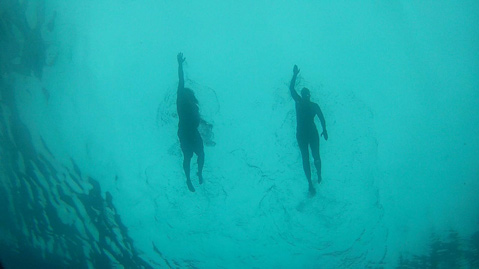 Driven
WHAT: Marathon swimmers take the plunge sans wetsuit and swim from the Channel Islands to the shores of Ventura County.
WHY: The athletes are a little nuts, the accomplishments mind-blowing, and the cinematography truly captivating and celebratory of the world-class water world just off our shore.
For a Woman
WHAT: Family searches through past, focusing on father's involvement in Communism in post-World War II France.
WHY: A full course of film, with international intrigue, revenge, romance, and more, masterfully shot in period-perfect style.
Ilo Ilo
WHAT: Debut feature from Singaporean director Anthony Chen traces intertwined fates of middle-class family and their young Filipino maid.
WHY: Terrific ensemble performances and a savvy, unsentimental original script make this intelligent domestic drama compulsively watchable.
The Gambler
WHAT: Paramedics hooked on gambling eventually start placing wagers on which of their patients will die first.
WHY: If betting on death wasn't enough to lure you in, this employs conflicted characters to tear at your emotions, and keeps you on your toes with eclectic narrative techniques.
Le Chef
WHAT: A gifted but stubborn young chef takes a job underneath an aging culinary legend.
WHY: This live-action spin on the Ratatouille tale offers two solid hours of laughs — and a whole lot of mouth-watering food porn.
Metalhead
WHAT: Icelandic family story that combines the rigors of Nordic existentialism with the crazy release of heavy metal music.
WHY: Great soundtrack and casting telling the tragic tale of a grieving family told in a starkly beautiful land.
The Missing Picture
WHAT: Searing documentary uses small clay figurines to tell the story of the Khmer Rouge's Cambodian genocide.
WHY: Rithy Panh explores his personal experience of loss through extravagant, willfully idiosyncratic means, with fascinating and shattering results.
My Sweet Pepper Land
WHAT: A multigenre post–Iraq War film on the Iraq-Turkey border that's been labeled a Kurdish spaghetti Western.
WHY: Curious mix of true-life tension, long-pause deadpan comedy, and a love story you root for makes this an unforgettable look at life in a frontier village.
Transit
WHAT: A heartbreaking multicultural extravaganza, the sad plight of Filipino families working illegally in Israel.
WHY: Artfully disjointed cinematic storytelling that matches the nationalist, cultural and class problems the film sadly chronicles.
uwantme2killhim?
WHAT: Based on a true story, this film follows two teenage boys whose lives become intertwined via the Internet.
WHY: Truth is stranger than fiction. Duplicity and loneliness lead to shocking events in this engaging British thriller.
Unforgiven
WHAT: Clint Eastwood's Western gets reworked for 1800s post-shogun Japan.
WHY: Sleek, sweeping cinematography and strong performances put this hyper-violent kung fu film on par with the original.
Buzzers-to-Be
Across Grace Alley
WHAT: Short film featuring a young boy who finds inspiration and sadness while staring out of his high-rise window
WHY: Child acting star Ralph Macchio directs this sweet tale, and will be on hand throughout the fest.
The Amazing Catfish
WHAT: Sickly single mom takes an orphaned teen into her lovingly dysfunctional family.
WHY: It's a sweet and affecting multi-character study that examines death and dying with a life-affirming twist.
Bella Vita
WHAT: Beautiful people (pro surfers) go to a truly beautiful place (Italy) in a film that celebrates the pure joys of life as much as it does top-notch wave riding.
WHY: Director Jason Baffa makes some of the best and most sneaky-thoughtful surf films in the game, and the young Coffin brothers of Montecito join in for the festivities.
BFFs
WHAT: Friends pretend to be lesbians to attend free couple's retreat.
WHY: Lovable rom-com formula with twist boosted by great cast chemistry.
Dog Days
WHAT: An out-of-work everyman teams up with an immigrant hot dog vendor and attempts to rectify the street-vending monopoly in Washington, D.C.
WHY: A surprisingly poignant look at our nation's capital following the economic crash, and the humanitarian and entrepreneurial spirit that spawned in its wake.
God's Slave
WHAT: Nearly forgotten story of how Middle Eastern militants infiltrated South American society to carry out anti-Israel bombings during the Lebanese civil war.
WHY: Exciting portrayal of the inner workings of a terrorism-afflicted world, calling into question why people fight, and whether there are truly good and bad guys.
Night Has Settled
WHAT: The sex-, booze-, and drug-filled lives of kids raised in early 1980s New York City.
WHY: Touching, if at times disturbing, portrayal of a lost generation raised by nannies and hooked on activities that shouldn't be explored until later in life.
The Village of Peace
WHAT: Who knew that about 40 inner-city blacks from Chicago established a settlement of more than 4,000 now living in Israel?
WHY: The little-known community of African-American Jews manages to explain their vigorous vegan diets and polygamous marriages in very convincing ways, revealing a seemingly new religion all its own.
Violet
WHAT: Spanish man obsessed with finding woman in photograph misses amorous opportunities before his eyes while connecting with dead grandfather in dream-like cinemascape.
WHY: The culmination of this Santa Monica-based story is at Santa Barbara County's own Zaca Lake, a magical place both on-screen and off.
Warren
WHAT: Fun ride through the life of a twenty-something as he tries to win back a long-ago love, deal with his parents' divorce, and expand his résumé beyond barista. 
WHY: Alex Beh wrote, directed, and acts as the protagonist, making him a multifaceted rising Hollywood star worth betting on.
A Year in Champagne
WHAT: Learn what life is like for smaller chateaus in France's iconic sparkling-wine region, where corporate producers dominate.
WHY: Like 2013's A Year in Burgundy, this will be the talk of the fest for wine lovers, and pulls back Champagne's elite curtain to reveal fun-loving people and accessible places.