News
Parking Ticket System to Be Studied
City Orders In-Depth Look at Police Department Protocols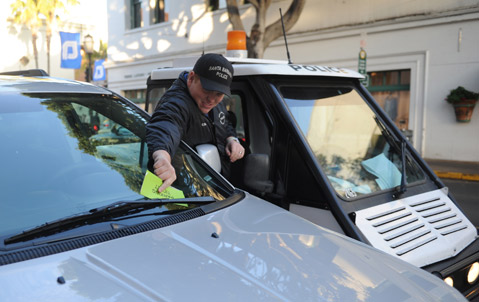 Three years after the Santa Barbara Police Department's office manager was arrested for embezzling more than $600,000 in parking ticket funds, City Hall has approved a $55,000 contract with an outside consulting firm to study the ratty and outdated citation system. A proposal request was issued last October and received a single response from J R Parking Consultants based in Aliso Viejo. The study ​— ​which will review the entire ticketing process, from writing to payment to processing, and will include a look at the department's 14 parking enforcement officers and three office staff ​— ​was initially budgeted at $25,000.
During the 2012/2013 fiscal year, the department issued 83,166 tickets, netting $2.35 million in revenue. Nine of those tickets were challenged in small-claims court, one successfully. The year before, 78,954 citations were issued for $2.28 million. Thirteen tickets were reviewed in court, and two were dismissed.
About a year after Karen Flores was caught in her embezzlement scheme, the department hired longtime city employee Lori Pedersen to take her place in the business office. (Pedersen had previously worked in the City Administrator's Office, Public Works department, and Downtown Parking division.) Before her hire, City Finance Director Bob Samario was tasked with patching the two-decade-old ticket-processing system with temporary updates and safeguards until a more permanent overhaul could be completed. According to Pedersen, a comprehensive review of the system and its related operations has not taken place in years. "This type of analysis is only done as needed," she said in an email Tuesday.
Police spokesperson Sgt. Riley Harwood ​— ​explaining that a fresh system would likely include cloud computing technology ​— ​said the study will also examine if it makes sense to outsource ticket-processing duties. City Administrator Jim Armstrong said the same thing during Tuesday's City Council meeting. Harwood noted that some police departments contract products and services from vendors ​— ​such as Xerox ​— ​to do the ticket mailing and processing while the department takes in the revenue. The SBPD recently went that route with its dog-licensing duties, Harwood said, and outsourced the work to a Texas-based company.
In related news, City Hall gave the Waterfront Department permission to spend $230,000 on new parking-control equipment. The department ​— ​which operates eight parking lots with what city staff called "fully depreciated" and "obsolete" equipment ​— ​will install the same Skidata brand gates and terminals found at the 12 downtown parking lots.