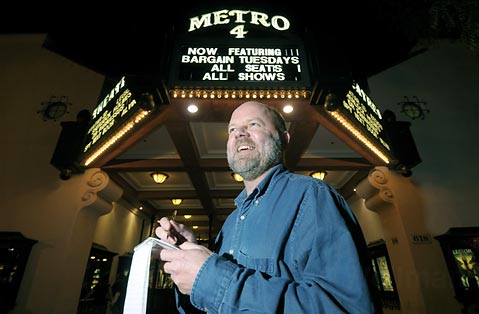 There is the self-evident truth that SBIFF is ​— more than just a varied feast of international cinematic goods, discussion thereof, and star-gazing occasions ​— ​Santa Barbara's oldest and deepest cultural festival, period. Over the 29 years of its existence, SBIFF ​— ​especially in the galvanizing and reputation-raising era of director Roger Durling's steerage ​— ​has woven its way into the very fabric of Santa Barbara's cultural identity, managing to appeal to casual fest-dippers, celebrity throngers, and the more serious fest-goer breed, who begin to resemble zombies by day five. But they can. Not. Stop.
For those of us who lean toward the obsessive, situation-seizing variety, SBIFF is a calendar-marking and blocking-out affair, which qualifies it as a ripe excuse for the escapist paradigm many in a beautiful locale like Santa Barbara dream about: a 10-day staycation. Or call it a screen-cation. Of course, the idea of sinking and slinking into a darkened theater for many hours a day versus more outdoorsy activities may be anathema. But to the hardy (foolhardy?), SBIFF is a brilliant way to escape the workaday life while dipping into realities and aesthetic voices from all over the world ​— ​and the international component of the programming, historically and going back to festival one, tends to be this festival's strong suit.
I have, happily and compulsively, covered every edition of SBIFF since year one for The Santa Barbara Independent, a weekly newspaper which, at the time founding director Phyllis de Picciotto called "action" on SBIFF, was a toddler of a publication itself. I have taken my rightful spot among the not-inconsiderable subculture of SBIFF-goers aiming for the 50-film mark over the course of the big show. It's doable, with some negation of one's normal routine, and that certain ravenous appetite for film, seen in the old, pre-Netflix-school mode of flickering images on a screen in a theater, with a posse of friends and strangers watching in sync. What a concept.
It is simplistic to divide the festival's audience into Hollywood-ites and internationalists. Anyone with a passion for film would eagerly greet face time (well, with a thousands-fold pack) to see and hear wolves of Oscar street, Leo DiCaprio and Marty Scorsese (both SBIFF tribute returnees), David O. (American Hustle) Russell, screen goddess Cate Blanchett, Robert Redford, and even our Montecitan neighbor Oprah Winfrey, along with well-stocked panel discussions with film pros/artistes, sandwiched in between obscure, subtitled field reports from the outside world of world cinema. It can also be exciting to check out items on the healthy "world premiere" list: Even if the films are rough around the edges and less than ideal, the palpable buzz of a premiere, with filmmakers and friends in tow, can be a pleasure in itself.
One trick for seeing the "good stuff," if one's schedule allows, is to get to the still fairly new 8 a.m. screenings, what Durling calls the "breakfast club," and which often features some of the finer items on the program. Long lines and missed opportunities for popular films are recurring points of frustration for those without a Platinum or other special pass, but there is comfort in knowing that more popular films will be slotted into the TBA holes in the schedule. When it comes to SBIFF, TBA is a beautiful thing.
Opening and closing nights at the festival aren't necessarily an indicator of the general quality level of a given festival. This we all know. But this year, at least, the closing-night festivities have a special screen-meets-flesh allure, with the screening of Richard Linklater's Before Midnight, following the previous two installments of the trilogy at the Lobero that afternoon, and a discussion with Linklater and stars/allies Julie Delpy and Ethan Hawke, live onstage. Try to channel that real-timing business on Netflix.
Let the screen-cation begin.