Film & TV
A Master's Passing, and the Show Going On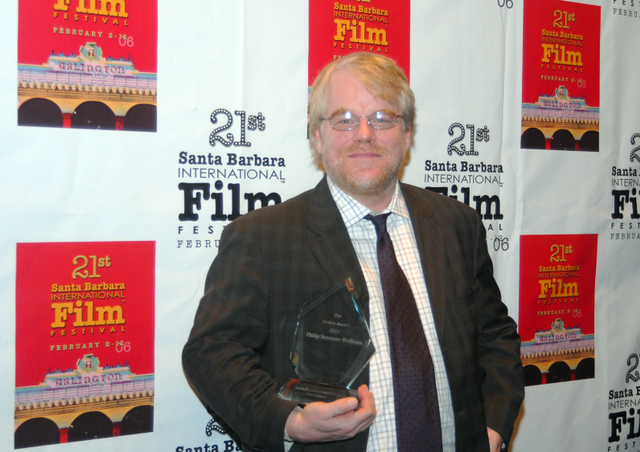 RIP THE MASTER: Amid the heady thicket of cinematic obsessions and festivities around the SBIFF, it was an inevitably tragic and mood-altering bit of news, hearing of Philip Seymour Hoffman's death on Sunday, age 46. The premature passing of this enigmatic powerhouse of a screen actor has cast a certain sad pall over the film and film-loving community, with a particular local relevance via the fact that Hoffman appeared in a SBIFF tribute back in 2006. (Ironically, the same year the late Heath Ledger, post-Brokeback Mountain, was feted in a tribute along with fellow Aussie thespian Naomi Watts, two years before Ledger's death at 28.)
It can truly said that Hoffman brought to the screen some ambience and energy unlike anyone else, as seen through films as varied as Punch-Drunk Love (one of several as a favorite actor of P.T. Anderson), the gleefully sinister post-noir of Before the Devil Knows You're Dead (with the famous opening howdy-do hanky panky scene with Marisa Tomei), and Hoffman's own tasty-quirky 2010 directorial debut, Jack Goes Boating.
Back when he graced the SBIFF stage, Hoffman was in SoCal during the awards monsoon season, then being toasted for his spot-on performance in Capote. Just last year, Hoffman gave a stunning and also uniquely personal and layered performance in P.T. Anderson's truly masterful The Master, in a role where he played a most distinctly L. Ron Hubbard-esque self-invented guru type. In that great film, there is a mesmeric power in Hoffman's extended two-shot scenes, in conversation, and mutual brainwashing, with the character played with jaw-dropping power by Joaquin Phoenix (who richly deserved the Oscar, but was apparently still in the Hollywood doghouse).
It's not just lip service to say that Hoffman will genuinely be missed in the film realm, with many great and strange performances left undone. And his waned spirit will no doubt hover over the rest of the fest, and thensome.
A&E, REDEFINED: By some strange cosmic coincidence, two of the more attention-grabbing and inventively filmic films of the festival so far, The Gambler and Wounded, ostensibly deal with the world of ambulance drivers, and the demons they face — not necessarily related to the job they do.
In the stirring and stylistically provocative Lithuanian film The Gambler, our protagonist has gambling issues, which propels him to devise an elaborate, morbid, and morally questionable betting scheme. The undertones of sadism come into starker relief as he becomes romantically entangled with a more level-headed, and level-moral female driver. Director Ignas Jonynas' film qualifies as one of the more experimental efforts in this festival. He deploys emotionally-encoded visual tactics — ultra-slow motion, a structurally pivotal, dizzying 360-degree shot (as in Fassbinder's Martha), and striking shot after striking shot, right down to one final overhead ocean image searing its way into our memory — but always serves the film's aesthetic purpose. File under "poetic cinema," and sub-file under artistic achievements which work strange wonders.
In the Spanish Wounded, the ambulance worker, who works in "transfer" rather than attending the wounded and the close-to-death, is a self-wounding depressive in desperate need of care and mending herself. To tell the story, director Fernando Franco heeds the hypnotically focused and minimalist route of presenting our troubled protagonist in a highly subjective way. He shuns the conventions of movie clichés, stripped of any music apart from ambient sources in a given scene, and most strikingly, tells the story primarily with tight close-ups of our heroine as she goes through her days of work, coping with a wedding trip, cutting otherwise punishing herself, chatting with her cyber-confidant and attempting to gain control of her festering inner torment.
In this masterful piece of minimalist filmmaking, which won awards at the San Sebastian Film Festival (including for the remarkable actress Marian Álvarez, scarily radiant in the extreme scrutiny of the film's style), we're not spoon-fed back story or extraneous details, all the better to place on the character in the center, basking in her own sadness of being, but with glints of hope in the wings. It's a powerful, and powerfully understated, character study, but also a riveting piece of film art. Thus, don't expect it in theaters soon.
Another SBIFF item of interest, from the more experimental end of the spectrum, is the Quebecois film Triptych, co-directed by Robert LePage, and based on LePage's innovative stage work Lip Synch. Blessed with unconventional ideas about visual texture, editing, use of effects and non-linear narrative co-created by its actors, geared around three intersecting half-hour vignettes, Triptych effectively pulls us into its artistic world, a place and time where the places and times keep cross-fading, to hypnotic effect.
My only beef with Triptych, as a film music geek, is the use of overused musical sources, which sullies the otherwise fine filmic invention: Arvo Part's sublime and haunting Frates is so obscenely exploited in cinema, the music police ought to issue a cease-and-desist order; and putting the slow movement of Mahler's Fifth Symphony should also be outlawed, as Visconti's Death in Venice has officially adopted that music. But that's just the film music geek talking. We all have our problems.
LET THE TBA GAMES BEGIN: As SBIFF unfolds, the tallying process begins, of audience head counts, attached to the level of crowd anger among those who can't get into popular films. Time to bust out the TBAs, those necessary schedule slots where crowd pleasers can be flown in to please secondary and tertiary crowds.
Two of the TBA sweepstakes winners in the first phase of the TBA announcements are Queens & Cowboys and BFFs. Queens is a well-made, dramatically structured, and not overlong (a common doc problem) documentary with a mission (and a fine, rootsy score by Joachim Cooder). Director Matt Livadery's Queens is one of those valuable documentaries which serves the purpose of filling the rest of us in on some societal niche or phenom from the subculture zone not widely known about or understood. In this case, we're talking about Gay Rodeo, and the riders — such as main protagonist Wade Earp, descendant of Wyatt — and organizers of the 25-year-plus old IGRA (International Gay Rodeo Association). As the final line of the film says, "There are other kinds of cowboys."
BFFs, penned by real-life "BFFs," comedic actors/writers Tara Karsian and Andrea Grano and breezily directed by Andrew Putschoegl, is a loveable goof of a film, riffing off the idea of friends who feign lesbianism in order to cash in on a weekend retreat for couples. Shot in 15 days, in a former rehab palace in the hills of Malibu, the film delivers in the laugh and comic set-up departments, despite the shoestring production values. It somehow walks a fine line between satirizing SoCal new age rhetoric (but falling shy of the satirical damage Paul Bartel might have exacted) and respecting the varied ways in which self-help and couples-help methods function. The systems might involve nasty post-it note attacks or chicken emulation, but it's all good… at least potentially. It's also good fodder for funny-making, which is this small charmer's primary charge.