Arts & Entertainment
A New Album for Gardens & Villa
Santa Barbara's Resident Indie Rockers Unveil Dunes
It's a typically scorching January afternoon when I meet up with Gardens & Villa frontman Chris Lynch to discuss his band's looming second album release. With the Funk Zone sun beating down, he starts to recall the recording experience, which found him and bandmates Levi Hayden, Dusty Ineman, Shane McKillop, and Adam Rasmussen leaving the creature comforts of Santa Barbara for a decidedly "chiller" clime. Their destination: a snowbound studio in the small town of Benton Harbor, Michigan, where the band joined forces with producer and DFA Records cofounder Tim Goldsworthy (Cut Copy, Hercules and Love Affair) to carve out the 10 tracks that would become Dunes. The album saw its official release earlier this week, and tomorrow the band hits the road for a monthlong nationwide tour that includes a stop at SOhO Restaurant & Music Club this Saturday.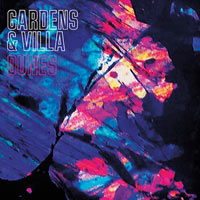 "I am so excited," Lynch enthused a few weeks after our meeting. "I love the adventure and all the people I get to visit across the country, and we haven't toured for a little while, so I'm stoked."
It stands to mention that I've known Lynch for going on seven years now. When we first met, I was newly stepping into a job as music editor for this very paper, and he was waiting tables alongside me at the Sojourner Café. At the time, he was fronting an ambient post-rock trio called Ave Caesar with fellow G&V members Rasmussen and Hayden, which he coaxed me into checking out back in 2008.
In the years since, I watched as Ave dissolved then morphed into Gardens & Villa and as Lynch grew from a reluctant lyricist to a commanding and versatile frontman. For evidence of this transformation, look no further than Dunes, a confident and dynamic offering that finds the singer drawing inspiration from meditation, Mother Nature, and his own thoughts on dystopian theory. Like the SoCal boys' frigid trip to the Midwest, the album is filled with disparities; songs bear titles like "Bullet Train" and "Purple Mesas," and Lynch's signature wooden flutes mix and mingle with Rasmussen's pulsing, angular synths.
As fans of the band will tell you, it's these very juxtapositions that make Gardens & Villa so lovably unique. In a sea of New Wave–inspired electro rock acts, they choose to play all instruments live, with no aid from computers or backing tracks. In terms of production techniques, they gravitate toward a mix of analog and digital. And as far as songwriting goes, they're as capable of channeling deep grooves and funky bass lines as they are comfortable in sparse, piano-ballad mode.
Below, Lynch catches me up on a year's worth of album making and explains the story behind Dunes's blustery title.
Prior to Michigan, you were working on these songs here in Santa Barbara. Looking back, was there a guiding force driving the process? Well, there's a lot that shaped the record, emotionally speaking. I think we feel a lot older than we did when we made the first album. We are a lot older than we were when we made the first album. Leading up to recording, I was experimenting a lot with meditation, trying to dive into my subconscious and pull out a lot of things, and I feel like the record is full of that kind of stuff. It was a lot of figuring out the meanings of songs after they were written, whereas the first record was a lot more, "Let's write a song about this." The more I write, the more I find that I'm drawing things out of a place that I feel like isn't necessarily from me. It's more like a collective consciousness.
In terms of production techniques, what was the recording experience like? The whole record was recorded so differently — every song was a different tactic. "Purple Mesas" was the first song we recorded and it just has this really youthful, sentimental thing going for it, which reflects what we all felt right when we got to the studio. But other songs sound much more angular and were recorded in the middle of craziness because we're locked in this dungeon that we hadn't left in two weeks and everyone was hyped up and losing their minds.
Do you see themes that run throughout the record, then? I think so. I feel like some of the themes from the first record carried over, like the bits of nature worship. But I think the thing that really dominates this record is the pairing of nature and man-made architecture. It's kind of a dystopian commentary on the weirdness of those two worlds.
How does the first single, "Bullet Tran," fit into that paradigm? The song was originally written as a satire on the California High Speed Rail that's supposed to be being built but probably never will be. We were originally playing off of Kraftwerk's "Trans-Europe Express" — we all love that song — but then it kind of took a turn into this darker realm. The chorus came from my friend Nathan, who was hit by a train about seven years ago. He was checking the waves in San Diego. He stopped his car and was crossing the train tracks and his sandal fell. So that was where the chorus about the "young dying young" originated.
I see a real resemblance to Hemmingway's generation and our generation, though. We're kind of caught in this in-between zone. It's like Brad Pitt in Fight Club when he says, "We have no great war!" I seriously believe that. It seems like there's a lot of waste, and there's a lot of people who are unable to have the dream that our parents had, so they turn to hedonistic pleasure. I think there's a lot of waste nowadays, but also a lot of beauty at the same time, and a lot of people trying to hold on to youth and beauty, even when it's slipping away; lots of people pretending to be 19 well into their 40s. The lyrics stemmed from that memory and those thoughts, but it's all kind of woven together into this single fictional thing.
I know you guys named the album after exploring around Lake Michigan. What about that experience lent itself to becoming the title of the record? It's funny. It's really hard to describe the energy that we felt being cooped up in that little studio space for three straight weeks after living in California our whole lives. On the day we went out, the guy that owned the studio gave us these rough coordinates, and we drove for like an hour into the woods and ended up at this fucking fantastical sand dune. It was like nothing I'd ever seen, like Pismo Beach mixed with Death Valley or something. There was this fierce wind blowing, and when we got there, the sun came out for the first time in a month. That afternoon, all of the stress of everything just kind of fell away. We had the studio owner's dog with us, and we were sledding and jumping off stuff and playing like a bunch of kids. It was impossible to understand, but it meant a lot to us. I really do like the name quite a bit. I like what it conjures up and that it was a really significant experience that triggered the idea.
Do you feel like there are particular records or artists that had an impact on Dunes? Definitely. While we were recording, pretty much every night when I went to bed, I listened to Alice Coltrane's Journey in Satchidananda. We also listened to a lot of Daryl Hall's solo stuff and quite a bit of Ryuichi Sakamoto and David Sylvian. Tim was just a gold mine for music, though. Anytime we mentioned a band, he knew of 30 other bands that we'd never heard of.
Your last producer, Richard Swift, was the same way. Totally! I feel like if Swift and Goldsworthy went head-to-head over who knows more about obscure music, it might never end. They could argue forever. I mean, Tim might have the upper hand because he's a few years older — and he's British, so he sounds like he knows more. I think that was one of the best parts about having a British producer, though; everything just sounds cooler. When he says certain words — like "rawk" or "punk" or "acid house" — you're just like, "Ooooh. Yeah. Say it again."
Aside from accents and killer deejay sets, how did working with Tim compare to working with Swift? Very different. Richard is all about establishing vibe and single takes and nailing shit. You don't turn on the tape machine until you're ready, and when you do, it's a sacred zone. But he also loves mistakes. It's kind of like Zen art, like the drunken painter that whips his hair onto the canvas and says, "Oh, it's a mountain!" I feel like where Richard was searching for that classic vibe, Tim was searching for an otherworldly portal. He wanted to find a way for us to take ourselves out of Michigan and into this other outer universe. I'd say, if Swift is the spontaneous Zen master, then Tim is the bodhisattva who will sit and meditate on stuff for years and take his time.
This thing was over a year in the making. Now that it's finally out, what do you hope people take away from it? I really hope they feel transported by it. I hope they can fall into it and go somewhere else in their minds, and ideally it ends up being a good place, even though sometimes it might be kind of heavy. But if people get just a tiny glimmer of someone special, or a sacred space, I'd be pretty happy to hear that.
4•1•1
Gardens & Villa play SOhO Restaurant & Music Club (1221 State St.) on Saturday, February 8, at 9:30 p.m. with openers Waterstrider. For tickets and info, call (805) 962-7776 or visit clubmercy.com. Dunes is out now via Secretly Canadian.