Visual Arts
Art in These Parts
Three Great New Exhibitions
DRAWING AND DREAMING: In Ann Diener's spectacular new Entangled Grid installation (at the SBCC Atkinson Gallery through February 28), the walls are covered with work that draws the viewer in to an unusually vivid and thoroughly imagined dream space where spiraling curves weave in and out of ghostly architectural fragments. Taking off from both her time in Rome as an American Academy scholar and her experience of life outside her current studio in downtown Los Angeles, Diener has created a kind of 21st-century complement to the fascinating carceri images created by the 18th-century Venetian artist Giovanni Battista Piranesi. Piranesi's gigantic interiors, fitted out with huge and powerful-looking imaginary machines, were just the kind of Gothic fantasy that got the poets of the romantic period — men like S.T. Coleridge and Thomas De Quincey — excited about the unconscious, and prisons. In Ann Diener's updated vision, the mental landscape has changed, with the experience of 21st-century freeways and the complex water systems of Rome and Los Angeles serving as key inspirations. To complete the gigantic 9' x 22' collage called "Urban Grid," Diener employed a team of SBCC student volunteers. The result is one of the year's most surprising and inspiring large works, and the show provides a fascinating look at the dream world of an important artist.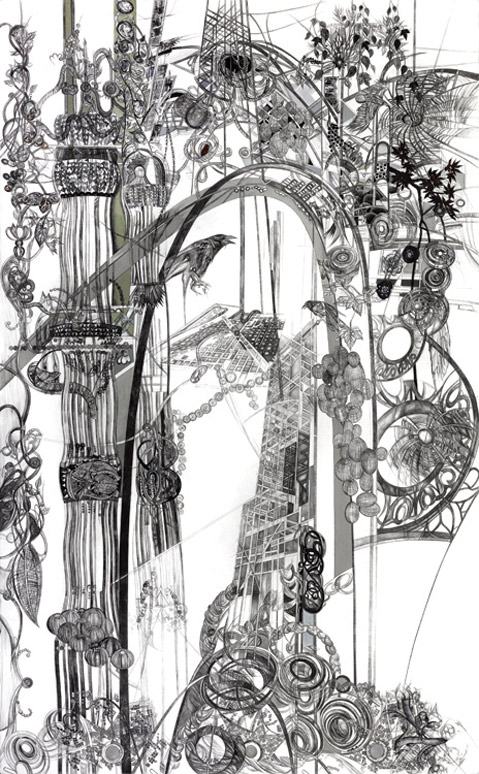 PERSISTENCE REWARDED: Tucked away on the third floor of 740 State Street, Hugh Margerum's Score celebrates a "score" (as in 20 years) of serious painting by this talented and intuitive abstract colorist. In what is now the headquarters of an Internet start-up called Crowdspending, Margerum has hung approximately two dozen paintings and prints, all executed between 1994 and 2014. The big paintings reveal his ongoing love affair with oils — how they interact when they layer and drip, and what they do with light when applied in irregularly shaped circles and diamonds. When it comes to painting, Margerum, a longtime resident of Santa Barbara, is very much a cosmopolitan citizen of the world, breathing the same rarified aesthetic air as his heroes Philip Guston, Brice Marden, and Gerhard Richter. The show is open by appointment only. Contact the artist at hughmargerum.com.
BRIGHT YOUNG BALTIMORE: The Land Has Many Parts at Jane Deering Gallery is an outstanding group show featuring an interesting mix of artists, including some familiar and some new names. From Santa Barbara, there's work by Ro Snell and Joan Tanner, and from elsewhere there are images created in Rhode Island, Massachusetts, and Maine. Thematically, the show comes together around the idea that not all art about the land takes the form of traditional landscape painting. Perhaps the most interesting aspect of the curatorial process involves Jane Deering's collaboration with one of the world's most distinguished collectors of contemporary art, Mera Rubell. The two women went on an extraordinary 36-hour marathon of 37 studio visits in Baltimore recently, with Rubell choosing works to include in the prestigious Select 2014 show that's upcoming at the Washington, D.C., Project for the Arts, and Deering on the lookout for promising newcomers to grace her first show since returning to Santa Barbara from her East Coast home base in Gloucester. The Baltimore artists are Amanda Burnham, Ryan Hoover, Magnolia Laurie, Rosemary Liss, and Kim Parr Roenigk, and if you hurry over to the gallery on East Canon Perdido Street this weekend, there's still time to catch them.