Film & TV
Review: The Monuments Men
George Clooney, Matt Damon, and John Goodman star in a film written by Grant Heslov and Clooney and directed by Clooney.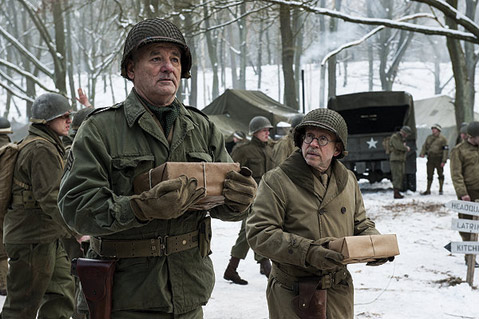 With George Clooney's well-intentioned but weirdly lifeless The Monuments Men, almost more interesting than the film itself is the larger WWII story it taps into: a tale that's still unfolding and commanding headlines seven decades after Hitler's demise. At issue is the subject of a particular brand of "spoils of war," looted art from around Europe, and on a massive and meticulous scale. Hitler was a frustrated artist as a young man in Vienna, of course, and it is suggested that that helped fuel his sadistic grand plan for world domination. (Beware the dangerous potential of the frustrated artist.) He commissioned the wide-scale collecting — aka stealing — of art masterpieces from occupied countries, with a vision of culling them into a massive "Führermuseum" in his birth town of Linz, Austria.
While much of the Nazi-heisted art has been recovered, many pieces are still missing, and discoveries periodically make the news, as happened most recently in late December, via a stash of valuable art found in a Munich apartment. As director, cowriter, and star, Clooney fleshes out the plot at the historical source by highlighting the true story of the officially sanctioned "Monuments Men," a group of art scholars sent to Europe during the last phase of the war to protect and recover the lofty artistic loot and advise about precious buildings worthy of eluding the Allied bombers' crosshairs.
On the upside, Clooney's film is a rare case of a relatively violence-free entry in the war/antiwar film genre, which champions the notion that wars are short, with luck, but culture is long and deep, worth treasuring. We follow the story from the assembling of the motley, heady crew — including Matt Damon (why is it so hard to think of him as an art scholar?), John Goodman, and Bill Murray — to brave the still-smoldering end-of-war zone in search of art, which they find in mines and other hiding places. Cate Blanchett pulls a Cate Blanchett, another chameleonic feat in which she beautifully inhabits the role of a bespectacled French art-world heroine and closet freedom fighter.
Even so, not much in the way of acting is required in this sentimental and fairly inert film, and not much is offered. Think of The Monuments Men as an enjoyable-enough, Hollywood star-studded history lesson: another case of Clooney's interest in bringing unseen chapters of history to the mass public forum of the movie house.