Announcement
Spirit of Entrepreneurship Foundation is Looking for 9 Great Women Entrepreneurs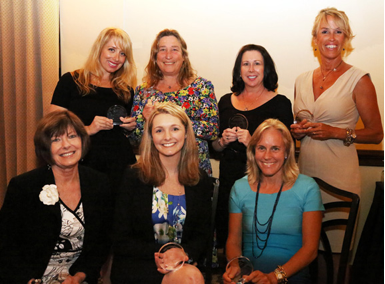 Nominations are now open for the fourth annual Spirit of Entrepreneurship Awards, the most prestigious awards for women entrepreneurs in Santa Barbara County. The winners will be announced at the gala Spirit of Entrepreneurship Awards dinner on Friday, May 9, 2014. Outstanding women entrepreneurs will be recognized their success and contributions to the economy in nine categories. The categories are:
• Agriculture/Wineries
• Emerging Business
• Green Business
• Health
• Media/Communication
• Professional Services*
• Retail/Hospitality/Tourism
• Science/Technology
• Wholesale/Manufacturing/Global Trade
*Open to any professional in accounting, law, real estate, consulting, etc.
The nominations are open to any woman entrepreneur in Santa Barbara County. "We changed some of the categories this year to bring them more in line with the growth sectors in the County, " says Cathy Feldman, Board Chair/CEO of the Spirit of Entrepreneurship Foundation. "Anyone can nominate herself or someone else just by going to our website, www.soefoundation.org and clicking Nominations. Filling out the form is easy, but the deadline is March 10, so the sooner you do it, the better."
Feldman points out that the selection of the winners will be done by "independent judges who are not connected with the Foundation and do not live in Santa Barbara to preserve the integrity of the Awards." The top three nominees in each category will be recognized, but the winners will not be announced until the dinner at the Fess Parker Resort on May 9, just like the Oscars. Lynda Weinman, co-founder/executive chair of lynda.com, will be the MC for the event.
Proceeds from the Spirit of Entrepreneurship Awards benefit the student winners of the SBCC Scheinfeld Center's New Venture Challenge, a two-tiered business pitch competition for area high school and collegiate students that promotes youth entrepreneurship. The winners of both tiers of the New Venture Challenge Awards willbe the Foundation's guests and receive their prizes at the Spirit of Entrepreneurship Awards dinner.
"The mission of the Spirit of Entrepreneurship Foundation is to support entrepreneurship at all levels in Santa Barbara County because entrepreneurs are the engine for growing our economy," Feldman added. "By recognizing women entrepreneurs for the benefit of student entrepreneurs, we believe we are making an important contribution."
The winners of the 2013 Spirit of Entrepreneurship Awards are:
Beauty/Fitness: Joy Kelly, Juice Plus
Communications/Media/Publishing: Melissa Marsted, Lucky Penny Press
Emerging Business: Jill Latham, Vibrant Earth Juices
Hospitality/Tourism: Alethea Tyner Paradis, Friendship Tours World Travel
Medical/Science/Technology: Ali Bauerlein, Inogen
Professional Services: Barbara Klein, Accrued Benefit Administration
Retail/Wholesale/Mftg.: Susanne Chess, Force Fins & Santa Barbara Fine Fabrics
Rock Star-Life Achievement: Kathy Odell, Annovium Products