Arts & Entertainment
Opera Demystified at MichaelKate
Salon Concert and Discussion Features Catherine Cook February 21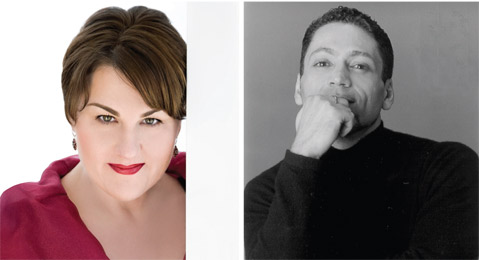 When Opera Santa Barbara brings Giuseppe Verdi's late career masterpiece Falstaff to the Granada stage on March 7 and 9, some lucky audience members will have already met Mistress Quickly, Falstaff's nemesis, and heard an insider's account of the production from mezzo-soprano Catherine Cook, who is cast in the role. That's because on Friday, February 21, Cook will be sing in recital and then participate in a panel discussion along with Falstaff's director, Jose-Maria Condemi, the show's conductor, Francesco Milioto, and moderator James Donelan. The evening is billed as "Demystifying Opera" and it's happening at MichaelKate Interiors on the corner of Santa Barbara and Yanonali Streets in the heart of the Funk Zone. Like several of the other high profile music presenting organizations in town, Opera Santa Barbara has figured out that something special happens when you take the music out of the concert hall and let it pop up somewhere unexpected.
In fact, it was at a similar event sponsored by the Music Academy of the West and featuring cellist Joshua Roman late last July that MichaelKate owner Michael McColm first expressed his interest in potentially turning his spacious furniture showroom into an impromptu concert hall. Now, largely through the efforts of OSB's indefatigable Community Engagement Manager Kristen Reed, that has happened. The room, with its abundance of comfortable seating, stimulating art, and open space, has become the de facto living room of the Funk Zone, as visual artists and musicians are more and more frequently invited to do these types of presentations there. It's not unusual for more than a hundred art lovers to crowd into the room for the visual art panel discussions. While Demystifying Opera drew a notably smaller audience in its first incarnation, attendees are guaranteed to receive a lot in return, because these participants don't just talk — they put their voices where their mouths are, so to speak.
On Friday, Cook will talk about and sing arias which best represent the joy and plight of what it means to be a mezzo-soprano in the world of opera. The program will take the audience from an early work of Gluck's Orfeo ed Euridice, to "What A Movie" from Leonard Bernstein's Trouble in Tahiti.
The inclusion of this contemporary work on the program shows both how open to new ideas and how ambitious Opera Santa Barbara has become under artistic director Jose-Maria Condemi. As many know, he's one of the most articulate and insightful artists at work in opera today. He also excels in these types of formats, having spent several years creating a successful outreach program for the San Francisco Opera.
The final ingredient in this recipe is, of course, the music and art of Verdi, which reaches one of many grand climaxes in what is often considered his most modern composition. The richness of the orchestration and the sophisticated interaction of the voices in this opera remain unsurpassed, and any time spent preparing to savor the full production will be well spent.
4•1•1
Demystifying Opera takes place at MichaelKate Interiors & Art Gallery (132 Santa Barbara St.) on Friday, February 21, from 5-7 p.m. Tickets may be purchased at the door, or in advance by calling (805) 898-3890.