News
Adobe House in Jeopardy
Pearl Chase Society Works to Save it From Demolition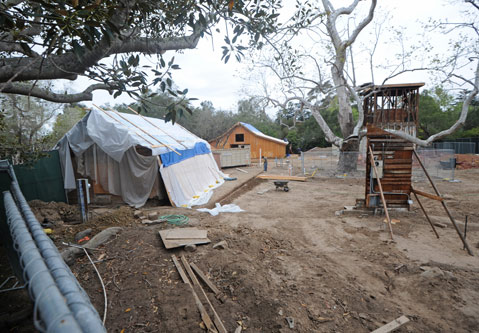 One of the last remaining adobe landmarks in Montecito may be torn down unless the Pearl Chase Society can convince the Board of Supervisors otherwise. Located at 461 San Ysidro Road, the Juarez-Hosmer Adobe House dates back to the 1840s, and the Historic Landmarks Advisory Commission (HLAC) recently decided that the decaying structure could not be rehabilitated but demolished and reconstructed.
In response, the Pearl Chase Society ​— ​a nonprofit group dedicated to preserving Santa Barbara's historic landmarks and cultural heritage ​— ​filed an appeal, arguing that HLAC's decision lacked public notification and that a replica could simply not replace the original. Pearl Chase Society members argued the engineering firm that found the structure unsalvageable specializes in brick and stonework not adobe. "It's like saying you have a heart condition, but you go to a brain surgeon to get an opinion," said Vice President Hattie Beresford. The appeal concedes that the adobe is in precarious condition and in dire need of expert preservation but states that reconstructing the house may cause it to lose its historic designation. Further, there was no peer review, Beresford said, which is typical with such a project.
Before siblings Katie Hay and Brian Kelly purchased the property four years ago, the adobe was in the Hosmer family for more than 100 years. Hay and Kelly were not available for immediate comment. The adobe was first designated a landmark by the Board of Supervisors in 1994. Four years later, the supes expanded the landmark area to include the entire property; a water tower, frame cottage (built in the 1930s), and three large, 50-year-old trees also exist on the lot. Historians believe the adobe was constructed by Victor Juarez and his wife, Maria Dominguez, in the 1830s-1840s, and it was originally used as a bunkhouse for their sons. "[The adobe] is very involved in the pioneer part of Santa Barbara history," Beresford said.
"If another firm came in and gave a second opinion that it was a goner, then we shed a tear and say okay," Beresford said. "We just don't feel that the due diligence was done." The project is currently at a standstill, and the owners cannot move forward until a hearing at a Board of Supervisors meeting scheduled for April 22.