Arts & Entertainment
Review: Pat Metheny Unity Group at the Lobero Theatre
Guitarist Leads Old and New Band on Wednesday, February 26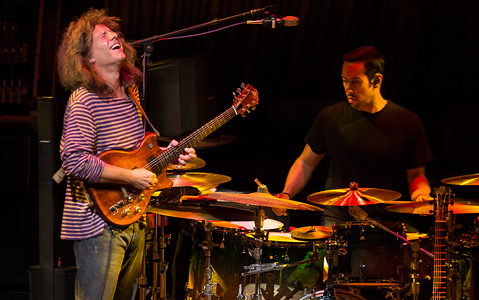 At the Lobero on Wednesday, guitarist Pat Metheny showed why he's become one of the most respected and influential musicians in contemporary jazz. While never leaving his core strength as a player behind, Metheny has struck out in a number of innovative directions, including the invention of an extraordinary, one-of-a-kind music-making machine, the orchestrion, and bringing to contemporary jazz inflections derived from modern classical and world music. This lineup for this incarnation of his Unity Band includes not only original Unity members Chris Potter (saxophones, flute, and guitar), Antonio Sanchez (drums), and Ben Williams (bass), but also Giulio Carmassi, an Italian multi-instrumentalist, on piano, voice, and several other small instruments.
Metheny began the concert alone onstage improvising on an (admittedly very fancy) acoustic guitar. One would think it nearly impossible to create something distinctive within a genre as ubiquitous as the solo acoustic improv, but for Metheny at least, the opposite is true. He started off striking a few familiar chords, just like every solo acoustic guitar improviser you've ever heard, but within a few bars he had the sold-out crowd entranced. Metheny's ideas flow so steadily that his music feels inevitable. His playing makes a connection to the room that's as direct and intimate as breathing. When the band finally came on and Potter stepped forward with his bass clarinet, he signified the impending arrival of a program full of unexpected choices in instrumentation. Potter is a full partner with Metheny in this Unity project, proving to be every bit the equal creative force that Lyle Mays was in the original Pat Metheny Group.
What came next was stellar — truly one of the most impressive displays of sustained musicianship that I have witnessed at the Lobero in any genre. Metheny played continuously for nearly three hours without flagging, repeating himself, or taking a break. With this project, he essentially has two separate Unity bands, even though they share four of five members, and, as Metheny told the enthusiastic crowd, "This way, we open for ourselves."
The sets, which blended directly into one another, were composed of nearly complete renditions of the material on each of the two Unity Group albums. But that's not all, because in addition to Carmassi, who joined the group at the midpoint of the concert to explore the music he created with them on the most recent Unity Group album, Kin, there was another prominent player on the stage: Metheny's orchestrion. This digital/analog, acoustic/electric music machine is a spectacularly idiosyncratic robot orchestra, and it may very well be Metheny's most inimitable contribution to music. In this setting, mostly relegated to a supporting role, the orchestrion functioned primarily to frame the players' lively interplay within a grid of repetitious musical minimalism, alternately adding dense layers of polyrhythm and delicate curtains of sonic texture to the group's main themes. Ultimately, and despite the knotty postmodernism of Metheny's Unity Group-era writing, the overall impact of the evening was one of purity and grace. Potter and Metheny have a magnificent rapport, every bit as compelling as any of the great jazz pairings, and they are playing their hearts out in this grand and thoroughly satisfying ensemble.