News
UCSB Gang Rape Investigation Continues
Officials Point to Effectiveness of Central Coast's State Crime Lab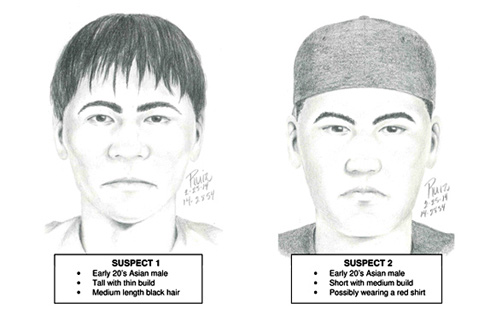 The ripple effects of the violent gang rape of a 19-year-old female student on UCSB's campus have been felt for over a week. Following the brutal February 23 attack, UCSB police strengthened security, national media spread the story, and university CARE (Campus Advocacy Resources & Education) offices saw an increase in both walk-ins and calls.
UCSB police say they are looking for "upwards of at least three suspects" and have released sketches of two of them, both Asian males in their early twenties and strangers to the victim. One was described as tall and thin, the other short with a medium build. According to Sheriff's officials, the woman was last seen walking alone between midnight and 12:30 a.m. near Embarcadero del Mar and Segovia Road. She attempted to fight off her attackers at the scene ​— ​authorities are not disclosing the exact campus location ​— ​and returned to her Isla Vista residence before notifying police.
In response to the high-profile case, the UCSB Police Department announced it will be recruiting five new officers to augment its 29-person force. And the university, according to Chancellor Henry Yang, will also add lights and cameras to the west end of campus and increase its number of student Community Service Officers (CSOs).
Last weekend, a Santa Barbara City College student was sexually assaulted on the 6500 block of Del Playa Drive at 1 a.m. on February 22. The suspect ​— ​described as a thin, 56 male with brown eyes and dark hair ​— ​allegedly took the victim behind a vehicle and assaulted her after he met her outside of a party. No one has been arrested, and the investigation is ongoing.
On January 18, an 18-year-old UCSB student was allegedly raped by three black males around 1:20 a.m. at the 6500 block of Sabado Tarde. The suspects ​— ​an unidentified 15-year-old, 22-year-old Casey Avila, and 18-year-old Charles Dunbar ​— ​were arrested and charged with forcible rape and aiding and abetting each other in the act. Avila and Dunbar are behind bars on $250,000 bail and are scheduled to appear in court on March 20. If convicted, they face up to nine years in prison.
UCSB officials said there were four reported rapes on campus in 2010, one in 2011, and four in 2012. In Isla Vista, there were 15 rapes and seven sexual battery reports in 2012, and 17 rapes and six sexual battery reports in 2013, according to records from the Sheriff's Office. Data indicates only 15 percent of sexual assaults in the area occur between two people who do not know each other, according to Elsa Granados from the Santa Barbara Rape Crisis Center. Seventeen to 20 percent of the nearly 700 victims the center sees each year are UCSB or SBCC students. Of the 59 sexual assault cases reported to law enforcement last year, 41 percent involved alcohol.
While these cases and others are investigated and prosecuted, the Central Coast carries the distinction of leading the way in quick turnaround for evidence evaluation. About a year ago, a program called Rapid DNA Service (RADS) was implemented, which allows three additional swabs to be collected from high-yield areas on a victim and sent via FedEx to the crime lab. RADS boasts machines that can run up to 24 samples at once, a much faster process than opening a highly detailed rape kit. Located in Goleta, the state crime lab covers Santa Barbara and San Luis Obispo counties and became the second one in California to implement RADS. District Attorney Joyce Dudley called the program "a watershed moment" in her 20 years in law enforcement.
Recently, 1,900 untested rape kits were found in Alameda County, prompting its District Attorney to work with state legislators to propose a bill that would call for rape kits to be submitted to crime labs within five days. It will be heard in the Legislative Assembly Public Safety committee next week. Though a backlog of unidentified suspects is not an issue in Santa Barbara, the fact that there are untested rape kits in other jurisdictions means DNA samples are not being uploaded into the Combined DNA Index System (known as CODIS), the national database used to match profiles with evidence already collected and uploaded. So far in 2014, Santa Barbara nurses have given 26 exams ​— ​eight were university students ​— ​and there have been five CODIS hits from samples collected last year.
While added enforcement helps, State Senator Hannah-Beth Jackson said UCSB's police increase is merely a Band-Aid, arguing that the university needs at least another 30 officers and that it should take better responsibility for violent sexual behavior that occurs in Isla Vista. UCSB sophomore and Take Back the Night cochair Tara Atrian concurred, explaining campus resources should be better publicized. Further, she noted Isla Vista's party reputation is problematic because it often wrongly excuses violent sexual behavior.