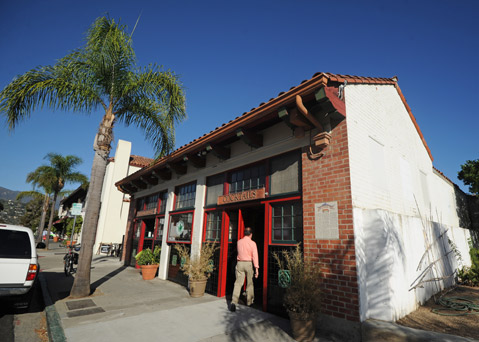 Name of Bar: The Pickle Room
Address: 126 E. Canon Perdido
Location: Across from the Presidio, next to the Three Pickles and on the same block as Handlebar, Sojourner, and Julienne
Days and Hours: 4:30-11 p.m., Monday-Wednesday; 4:30 p.m.-1 a.m., Thursday-Saturday
Happy Hour: 4:30-6 p.m., $2 off all drinks
Known For: History, pickles, and 151-spiked Mai Tais
Open Since: Since 1947 as Jimmy's Oriental Gardens; after a six-year hiatus, the bar reopened as the Pickle Room last fall.
Notable Décor: Orientalist nudes, drawings, and photographs of the Pickle Room throughout the ages, and an old golden register
Patrons: A motley crew of age-old regulars, young patrons in service industry attire, and professionals from the nearby legal district for happy hour.
Food: Deliciously creative Asian-inspired appetizers and sandwiches with a pickly twist.
Music: Mostly low-key instrumental music, especially jazz and blues.
Quote from the Bartender: "You come here if you want to avoid State Street, if you want to actually meet people."
Find of the Night: Panko-crusted Kosher dill pickles with chorizo aioli and apricot chili sauce! Even better than it sounds.
Odd Sighting: A man coming from a theater party with a brown paper turban wrapped around his head … briefly set on fire.
Before you leave, you should…: Try the dirty martini – with pickle juice!
My Experience: These old adobes we adore were once the slums of this town. After the Americans stopped trying to assimilate around 1850, but before Dr. Pearl Chase and the invention of "historical chic," this part of town belonged to the people we most distrusted and despised: immigrants from East Asia.
Starting from around 1850, immigrants from a much nearer East cut up the old Spanish streets and built their fine Victorian homes and Cape Cod estates on the backs of natives, destroying swaths of their history and relegating newer immigrants to the old hacked-up remains. Amid these ruins, hundreds of East Asian families built lives for themselves. In 1947, resident Jimmy Yee Chung established a bar. Crossing the street, my back to the Presidio, I entered that bar, now called the Pickle Room.
Inside, the bar swarmed with thirsty patrons: some regulars, some drifters, all riff-raff. Jazz music played tonight at the Pickle Room, and the place felt like the inside breast pocket of a red silken smoking jacket. Warm, musty, and more than a little sexy. You could feel the layers of history here. A sign for Jimmy's Oriental Gardens hung above the bar, just under a faux architectural element that aped the Forbidden City. Along the walls were erotic drawings of Eastern concubines, lusty treats for the modern Orientalist, and the booths and stools were sheathed in bright red vinyl that glowed in the dim bar light. You might say the theme was a bit kitschy, but it was warm and animated and just a little slapstick: an East-meets-West tragicomedy that reminded me of some ruby-red Vietnamese peep show, circa 1971.
I sat at the bar and chose the pickle juice martini, just to be festive. Watching the regulars mix and exchange jokes with the barman polishing the glasses, it seemed to me that everyone here had a lot of heart for this bar, a bristly kind of affection that manifested best in our conversation about my drink: "Pickle juice is life: It's energy. It's nutrition. It prevents hangovers," said Dave the barman. "That's why we drink pickle juice. People who put olive juice in their martinis just don't want to taste the alcohol." I drank to that.
The Pickle Room is a great little bar with a clientele who are in it for the long haul. They take their history seriously, but without pretense, and they live within the wreckage of a bygone era as comfortably as the bar's first patrons. Classier than a dive, but with too many degenerates and hardened regulars to be classy, the Pickle Room strikes a perfect chord.