News
UCSB Professor Accused of Assaulting Anti-Abortion Activist
[UPDATED WITH VIDEO]: Survivors of the Abortion Holocaust Say They're Pressing Charges Against Feminist Studies Faculty Member
An anti-abortion ministry known for its aggressive and controversial outreach work is pursuing criminal charges against a UC Santa Barbara professor, who allegedly stole one of its banners, assaulted one of its members, then helped destroy the banner during a confrontation on campus last Tuesday. The UCSB police department is investigating the incident.
According to 21-year-old Joan Short — a student at Thomas Aquinas College and a member of the Christian pro-life group Survivors of the Abortion Holocaust — she, her 16-year-old sister Thrin, and 11 other Survivors had set up three large signs in an area of campus heavy with foot traffic called the Arbor. The banners, along with literature the activists handed out, displayed graphic imagery of late-term abortions that Joan said was intended to "begin conversations" with passing students.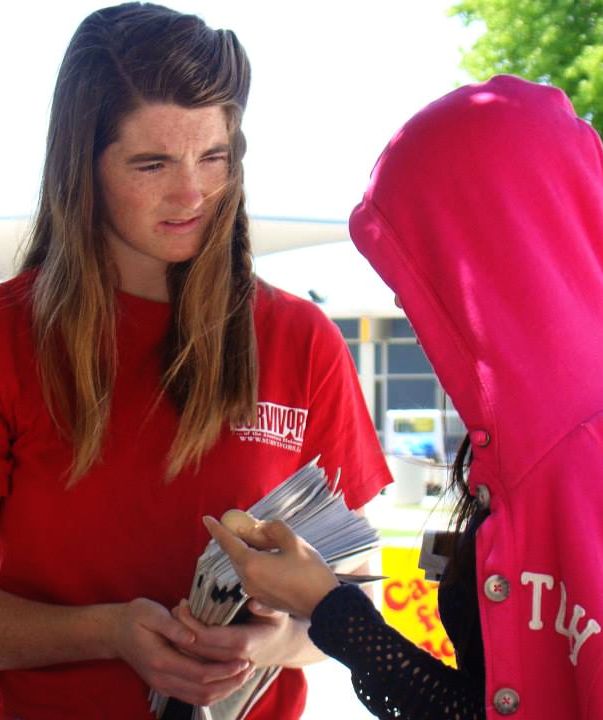 Joan said that at around 11 a.m., Dr. Mireille Miller-Young — an associate professor with UCSB's Feminist Studies Department — approached the demonstration site and exchanged heated words with the group, taking issue with their pro-life proselytizing and use of disturbing photographs. Joan claimed Miller-Young, accompanied by a few of her students, led the gathering crowd in a chant of "Tear down the sign! Tear down the sign!" before grabbing one of the banners and walking with it across campus.
Joan said she called 9-1-1 and Thrin started filming, and that the pair followed Miller-Young and two of her students — who Joan referred to as "the fugitives" — into nearby South Hall. As Miller-Young and the students boarded an elevator, Joan said that Thrin repeatedly blocked the door with her hand and foot and that Miller-Young continually pushed her back. Miller-Young then exited the elevator and tried to yank Thrin away from the door while the students attempted to take her smartphone. "As Thrin tried to get away, the professor's fingernails left bloody scratches on her arms," Joan claimed. The struggle ended when Thrin relented, Miller-Young walked off, the students rode up in the elevator, and officers arrived to interview those involved.

"The police did not seem overly concerned about the incident until they saw the video and realized how violent the professor had been," said Kristina Garza, director of campus outreach for the Riverside-based Survivors ministry. "She was definitely leading the group," said Joan. "I sincerely doubt any crime would have been committed if she hadn't been there."
Joan said police later found their sign destroyed, but she couldn't say where it was discovered or how it had been ruined. Garza said her group — which has publicized its accusations through Christian news outlets and on its own website — will soon release their video of the incident.
[UPDATE, March 13, 1:00 p.m.]: Survivors of the Abortion Holocaust have posted their video on YouTube. See it below:
Miller-Young declined to comment for this story and has retained an attorney. Catherine Swysen of law firm Sanger Swysen & Dunkle issued a brief statement on her behalf. "It is a pending matter, so it is not appropriate to comment at this time," she said. "We will let the process take its course. I am confident that it will become clear that the events did not unfold as the anti-choice demonstrators say they did."
District Attorney Joyce Dudley said her office had not received a report from UCSB's police department by Friday. UCSB police spokesperson Sgt. Rob Romero did not return multiple phone calls and emails seeking comment.
John Longbrake, UCSB's associate vice chancellor for Public Affairs and Communications, said the university is aware of the incident and that "it is being reviewed internally by the appropriate offices." He said he could not comment on Miller-Young's teaching status as it is school policy not to talk about personnel matters.
Longbrake said the Survivors had gathered on Tuesday "in an area designated as a free-speech zone and therefore did not require permission to be on campus." When asked how often the Survivors travel to UCSB and if there have been past issues with the demonstrators and students or faculty, Longbrake said, "Groups with similar issues come to campus periodically. I am told that the University typically receives a large number of complaints during these demonstrations and, on occasion, the police have been called in the past to help maintain a safe environment." Joan said her group visited UCSB on one other occasion last year.
While such activist groups are required to notify UCSB's Office of Student Life of an upcoming trip so the Office can install its own signs warning students of explicit photos nearby, the Survivors failed to contact campus representatives before their March 4 demonstration. Joan said she and her group had not been in touch with university officials since their confrontation last week.
Last Friday, UCSB's student paper, the Daily Nexus, published a letter to the editor called "Selfishly Abusing Our Freedom of Speech," which argued students had been ambushed by "the overwhelmingly bloody and gory pictures that were displayed in the Arbor." Other anti-abortion groups at UCSB, while agreeing with the Survivors' overall message, have taken issue with their tactics, as well.
This Monday afternoon, The Santa Barbara Independent received multiple phone calls from parents picking up their children at Dos Pueblos High School. They were concerned about anti-abortion protests — featuring enlarged photographs of aborted fetuses — staged at the school's entrances and exits.
Joan said that while she and her sister were shaken by their encounter with Miller-Young, they "are not deterred from leading future pro-life outreaches." She said her mission is important and feels "everyone has an obligation to do what he or she can to end the slaughter. I do what I can by reaching out to women and men of my age and showing them the horror of abortion. I believe that if a woman knows the truth, she will never willingly have an abortion."
Of her group's shock-value approach, Joan said the admittedly gruesome images are meant to spark thought and debate that would otherwise not exist. "I think most people are ignorant about abortion," she said. "When they see a picture of a 'blob of tissue' that has been aborted and see that it has a face and hands just like them, they feel a connection. That's why they are disturbed. When people see the faces of abortion victims, they know they have to change the way they've been living."