Food & Drink
Veggie-Friendly Find @ The Palace Grill
Fusilli al Fumo from the Historic Cota Street Cajun Restaurant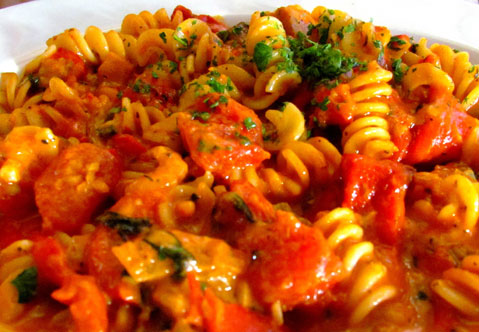 The Palace Grill, located in downtown Santa Barbara on East Cota Street, opened 29 years ago to immediate success. "It was unique because we were bringing regional Cajun cuisine to Santa Barbara," said Errol Williams, who, as the restaurant's general manager, is also proud of winning the award for best service in Santa Barbara 26 times since opening in May 1985. "One guest said, 'You have such happy workers,'" recalled Williams. "'Where do you get them from, outer space?'"
Almost three decades later, the restaurant is still the city's go-to location for Mardi Gras celebrations and Southern hospitality, yet what diners might not know is that The Palace Grill offers more than old-style jambalaya, shrimp gumbo, and the other meat- and seafood-heavy dishes that typify Cajun cuisine. There are exciting vegetarian options to be found on its extensive menu, as well.
Though there have always been veggie options, "The Palace," as it's known to most, has consistently seen that demand grow. Williams recommended the fusilli al fumo, a pasta dish with roasted eggplant and red peppers, smoked mozzarella, and a sweet tomato basil cream sauce. It maintains the spicy flavors of Cajun cuisine, and the dish gives off a zesty Southern flair that is not often found in vegetarian cooking. Not your traditional Italian pasta, the fusilli al fumo is one of the restaurant's dishes that give vegetarians a genuine taste of the South.
"We are a very accommodating restaurant," Williams said, "and we can adjust to allergies and restrictive diets." If diners call ahead with a request, The Palace Grill is happy to bring in a special item for them.
Williams credited the restaurant's fun-loving atmosphere for its continued success. "It's the attitude that we enjoy doing what we do," he said. "We are a celebration restaurant, so whether it's your anniversary, your birthday, etc., we try to make it special."
No wonder that The Palace Grill has been recognized for its culinary expertise and exceptional service in Gourmet Magazine and USA Today. Yet it should be recognized for the fusilli and other meat-free alternatives as well, because even vegetarian guests can join in the New Orleans fun on Cota Street.
4•1•1
The Palace Grill is located at 8 East Cota Street. Call 805-963-5000 or see palacegrill.com.