Travel
Hannah Apricot Visits Cuba
Slideshow March 19 Shows a Picture of Life with Little Petroleum
Cuba was everything I had imagined and more: the classic 1950s cars, architecture dating back hundreds of years, and horse-drawn-carriage taxis as a common sight in both the large city of Havana and the rural villages of the countryside. As one friend on the trip philosophized, "Havana is a million gallons of paint short of being the most beautiful city in the world." One of my favorite parts about my recent trip to Cuba was getting to snorkel a living reef — where the coral and sea fans haven't been poisoned by the use of fossil fuel fertilizers on land.
A handful of Santa Barbarans went on the trip, and we're discussing some of the amazing experiences and lessons we learned at a free talk and slide show on Wednesday, March 19 at 6 p.m. at the Karpeles Manuscript Library at 21 West Anapamu Street. It was the trip of a lifetime and worth sharing with others!
We were there as delegates from the United States for the International Permaculture Convergence. Over 450 people from more than 45 countries gathered in Cuba at the end of 2013 to learn from each other how permaculture is making a difference around the world.
Cuba has greatly embraced the design science of permaculture since Australians, who recognized its potential to help keep Cubans from starving, introduced it there in 1993. This island nation experienced the Peak Oil phenomenon almost overnight when the Soviet Union collapsed and the country's oil imports were cut by 80 percent. With it went Cubans' everyday way of life and their agriculture industry, which was heavily reliant on fossil fuels, much like ours is. This was during what the Cubans call "The Special Period." The average person lost 20 pounds in the first year or two, and people had to learn to grow food in every empty plot by trial and error, for it was life or death that they faced.
The 55-year-old U.S. embargo against Cuba, still in effect today, left only two or three nations willing to trade with the destitute island nation. So finding new ways to grow as much food as possible with as little resources as possible was key to survival. Today, Havana, with over 2 million people, grows 80 percent of its fruits and vegetables, and many smaller towns produce 100 percent of their agriculture locally. Permaculture has helped allow this to happen by offering a system where there is no waste, only creative solutions.
Even though the Socialist country offers free dental work, toothbrushes and other items we take for granted are very hard to come by. My suitcase was more then half full of donated toothbrushes from Dr. Robert Lombardo in Yucca Valley. On the last morning before my flight home, I gave a woman working in my hotel a pair of sneakers I had bought for the trip. I knew that even if she could find the shoes to buy, they would cost her at least one month's salary. I have never met someone so appreciative of a gift. It warmed my heart and hopefully eased her feet.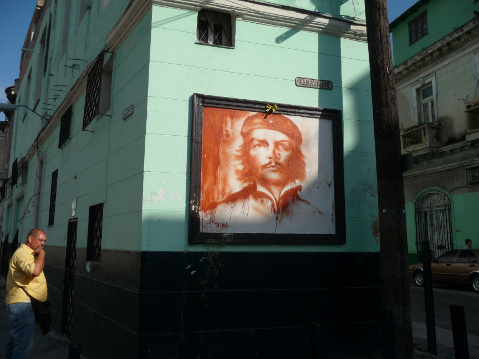 While the devastating U.S. embargo against Cuba continues and travel restrictions are placed on Americans, it was fascinating to be able to visit this country, one that I have always been intrigued with. It was great to be where consumerism is not king — where it matters more how you move on the dance floor than what you do for work. However, that is rapidly changing as capitalism stretches its tendrils to all ends of the world.
I was able to visit Cuba as a professional in the permaculture movement, and all my arrangements were made by Global Exchange's Reality Tours and its Cuban partners, Eco Cuba Network. Experience is the best teacher, so I encourage anyone interested in experiencing this mysterious and beautiful country to go before it changes any more. These organizations offer many trips a year, in a variety of topics for different professions and passions. At the free talk on March 19, permaculture experts Margie Bushman and Wes Roe of the Santa Barbara Permaculture Network and Loren Luyendyk of Surfers Without Boarders will join me in a lively presentation. For more information, email DeeperRootsEvents@gmail.com.