Columns
The Community Spirit in Isla Vista
Clinic, Rec Rooms, and Teen Center Revived
An important part of fostering a community spirit is having a place that people can meet to discuss ideas, hold classes, or celebrate a special event, like a wedding. Isla Vista is in desperate need of this type of facility, and, luckily, is on the road to making this happen.
In February, the California Department of Finance made the decision to allow Santa Barbara County to retain three properties in downtown Isla Vista, two of which have the potential for becoming community centers. The properties were scheduled to be sold, and the proceeds, an estimated $4 million, would have gone to the state. These properties include the site of the Isla Vista Neighborhood Clinic, a church building that formerly served the St. Athanasius congregation, and a solar-cell-covered parking lot.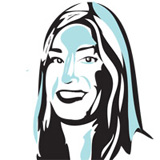 The battle to retain these properties was not an easy one. "No one thought we would get this. Everybody else thought it was a long shot," said Frank Thompson, a former Isla Vista resident and an affordable-housing consultant. Efforts to prevent the sale of these properties began in May of last year and continued until recently. He said that people opposed to the selling of the properties waged a letter-writing campaign, among other things. He said that 40 letters were written to the state, and, eventually, there was a response, albeit a negative one. "We are Isla Vistans, so as soon as they told us to stop, we knew we were getting to them."
He said that the buildings had something important that worked in their favor: their history. The buildings, and the surrounding area, had been home to a clinic, a human relations center called Switchboard that gave birth to Pacifica Graduate Institute, a recycling center, and the Isla Vista Free Box. "That's what saved [the properties]: the long history of use for human services," Thompson said.
Many individuals and groups were involved in the battle to retain the properties, including area resident Carmen Lodise, representatives from Associated Students UCSB, the Isla Vista Community Network, Melissa Cohen from the Isla Vista Food Co-op, and members of the Isla Vista Recreation and Park District board and staff. The Isla Vista Community Network has plans to organize a retreat soon to discuss the future use of these buildings, Thompson said. He said that some of the things that need to be discussed include potential renovations, funding sources for the management and upkeep of the properties and possible uses.
Community Members Know What They Want
Errin Briggs, program manager for the County of Santa Barbara's successor agency to the redevelopment agency, said that the area of the clinic building is 9,000 square feet and that of the church is 3,700 square feet. While the clinic is a two-floor facility divided into distinct areas, the church is a large room with bathrooms. Both properties have the potential for use as community space.
Community members have a lot of ideas about how these facilities could be used. One Isla Vista woman said the buildings could be used to hold community meetings, parent education seminars, and even Zumba classes. Thompson said he didn't think that there would be a problem finding people who wanted to use the facilities. "I don't doubt that we will be able to use it fully," he added.
The idea of a community center is not new. In the past, Isla Vista Recreation and Park District boardmembers expressed support for such a center. They envisioned a place that could provide activities for seniors, hold cooking classes, and be an educational hub.
A Center for Teens
Isla Vista adults are not the only ones who will have access to a new facility. In the near future, the building housing the Isla Vista Teen Center, run by the YMCA, will be replaced by a 3,200-square-foot facility. The new center will be a third larger than the current one and feature such amenities as indoor bathrooms. Right now, teens have to get a key and go outside to Estero Park to use the bathrooms, said Lynn Karlson, executive director of the YMCA's Youth and Family Services.
Ed St. George, who owns and manages many properties in I.V., has pledged to provide the materials and manpower to build the new center. Karlson said plans for the teen center have been submitted to the county and are awaiting approval. Once they get the go ahead, she said representatives estimate that the facility will be completed in three to four months. Once finished, the teen center will have a homework center and computer area, a recreation room with games like ping-pong and a pool table, an outdoor facility, and bathrooms.
With centers for both adults and teens, Isla Vista residents can look forward to community cooking classes, celebrations, and, most importantly, Zumba.