Arts & Entertainment
Review: The Watkins Family Hour at the Lobero Theatre
Sara and Sean Watkins and Friends Present a Night of Music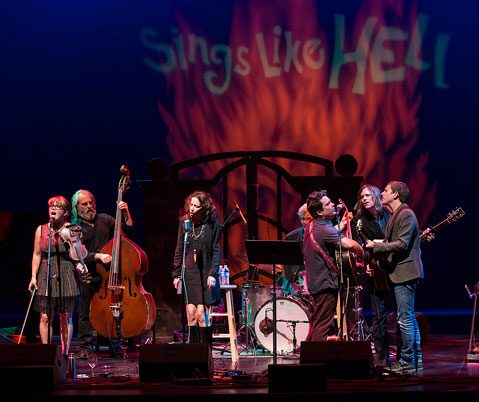 "We are going to be in the presence of greatness tonight," said Sings Like Hell series curator Peggy Jones as she introduced The Watkins Family Hour last Friday night at the Lobero Theatre. The group made good on Jones's prediction; the band, led by siblings Sara (fiddle) and Sean (acoustic guitar) Watkins of Nickel Creek fame, and their cohorts, which included Benmont Tench (piano) and Sebastian Steinberg (standup bass), gave a relaxed, musically delicious performance.
Sara Watkins got the night off to a captivating start with "The Wrong Road Again," a song made popular by country singer Crystal Gayle in 1974. The band did four more numbers before bringing out their first guest, Glen Phillips. Phillips and the Watkinses have a history of playing and recording together dating back 12 years. "We've done a lap or two," Phillips said with a smile. Then the trio played an acoustic version of "California Wasted," a cut from Toad the Wet Sprocket's recently released album New Constellation.
Then came more from the Family Hour, like Sara Watkins's heartfelt cover of Jackson Browne's "Your Bright Baby Blues," which proved to be an evening highlight. Later in the set list, the Watkinses turned the stage over to Sarah Lee Guthrie (Arlo's daughter) and Johnny Irion for a couple of songs, their tight harmonies ringing brightly through the theater.
All parties returned to the stage for Bob Dylan's "Lay Down Your Weary Tune" before the Watkinses closed the show with the Grateful Dead's lament "Brokedown Palace." It was a festive night of laughs, storytelling, and excellent music — the best family gathering anyone could ask for.