Starshine
Drunk Shopping: It's for the Kids!
School Auctions are the Annual Campus Clusterfund
I have a rule against drunk shopping. But I didn't always. The policy sprang from necessity after attending my first-ever school fundraising auction. Poured into an oxygen-inhibiting costume, plied with signature cocktails, and woozy from watching wealthy parents race to the bottom of bid sheets, I lost my shizz and wound up owing $500 for a one-night chocolate fountain rental.
Five hundred dollars. For wet chocolate.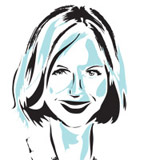 When sobriety surfaced, I literally wept with panic. What had I done?! I had a young kid, a new mortgage, a mediocre salary, and, like, six friends — none of whom were likely to pay $83 each to lap gurgling goo from a humming appliance atop my hand-me-down kitchen table. No, you know how this ends. I took a bath on that chocolate fountain. And possibly … also … in it, but that's my business.
A dozen years and as many auctions later — at Cabarets and Carnivals, through the Enchanted Forest, and aboard the Orient Express — I've learned to sip my wine and hide my bid number. But I can't say I've learned to love the annual campus clusterfund that is the school auction.
At public and private schools alike, parent organizations have discovered a magic formula for drumming up those hard-to-scrounge dollars for art supplies, field trips, and PE teachers. It turns out that alcohol + shopping + the opportunity to one-up one another while sporting a SPANX Boostie-Yay (look it up) = an irresistible pastiche of delights to the socially stagnating parents of grade-schoolers. Throw in the chance to rock a Mardi Gras masque, and stand back — even preschool parents are pounding mint juleps and scribbling checks faster than you can say, "Show us your tots!"
To be fair, a lot of good comes from school auctions. They raise big money. They foster admirable cooperation among the motley members of a campus community, who hurl themselves zealously into soliciting auction-item donations, budgeting for appetizers, and crafting centerpieces. And the first time you see two dads vying for the school's Big Spender Parking Spot in the live auction, it's as riveting as being on safari, watching male gorillas puff up, snort, and beat their chests to impress any females in earshot. "That's $800! Do I hear $1,000? One thousand dollars to the gentleman with the banana! Do I hear $1,200? Twelve thousand dollars to park your Tesla where everyone will see it and wish they were you? Yessir! You're the big ape on campus!" It hurts to watch. But you can't look away.
After a couple of years, though, it all starts to seem absurd — and inefficient. So much time and effort. So many binders and spreadsheets. It's like when your kids want to set up a lemonade stand, so you buy the cups, teach them to juice lemons, help them sketch signs, and then spend a week wiping sticky spots from the counters, all so they can feel accomplished and successful for hauling in $3.75.
It's a lot like that.
"Can't we be spared the stupidity," moans a friend of mine, "and just raise everyone's tuition by 100 bucks for a couple of months and be done with it?"
Sing it, sister. If I promise to hand over what I'd spend on a dress, a sitter, a few raffle tickets, the valet, and a $25 gift certificate to the local pizza joint that I'd pay $40 for … can I just stay home and binge-watch True Detective?
Another friend says what irks her most is that her son's school spends a month of legit class time creating self-portraits that the parents must then buy. Artwork that isn't purchased at the auction is hung up in the office on what the parents secretly call the "wall of shame."
The horror! Drunk shopping is one thing. But when it comes to shame shopping, there are no rules …