Theater
John Hodgman: Refugee from the Land of Tweedy Pedants
The Daily Show Correspondent Comes to UCSB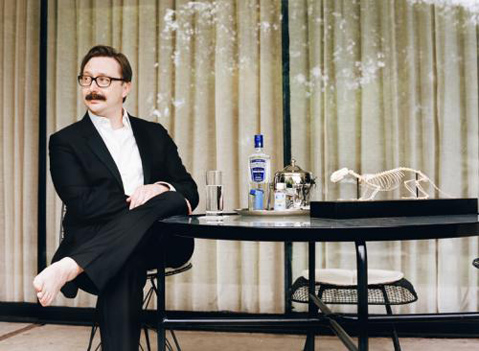 There's a charming formality to John Hodgman. At least on the telephone, the droll humorist and actor speaks in full sentences that are both grammatically correct and extremely precise.
For instance, if you note that he grew up outside of Boston, his reply is polite but firm.
"If I may correct you, I would not say 'outside of Boston,'" he insists. "I was born in Cambridge and raised in Brookline, Massachusetts, which is surrounded on three sides by Boston. So I would say I was born and raised encircled by Boston."
That persnickety clarification helps explain the origins of his alter-ego, the know-it-all who actually knows next to nothing. Such a persona — he is Jon Stewart's "resident expert" on The Daily Show — comes naturally when you grow up surrounded by, in Hodgman's words, "tweedy pedants."
Hodgman, who will perform his one-man show I Stole Your Dad Tuesday night at UCSB's Campbell Hall, enjoys parodying the pedantic: His Complete World Knowledge trilogy contains few if any actual facts. By contrast, his new show is largely based on his actual life.
"I think I am, in many ways, a fairly typical only child, in that I'm a member of the super-smart-narcissist-afraid-of-conflict club," he says. "I never had any siblings to tell me my ideas were dumb, so I grew up believing my ideas were good. I also never had any siblings I could rehearse arguments with. That's where the fear of conflict comes from. It is the dream of every only child to be a 35-year-old independent bachelor. For various psychological reasons, only children prefer to leapfrog over the awkwardness of adolescence, and the discovery of sexuality, and get to a point in adulthood where they don't need to think about those things. I deployed this neurosis very effectively in many different ways, including discovering very early on how to insinuate myself into the world of adults."
The first fruit of that particular talent was the volunteer job that kick-started his career. While still in high school, Hodgman spun records from 5-7 p.m. Fridays ("drive time," he notes) on WMFO, the college radio station of nearby Tufts University.
"I loved radio and still do," he says. "There was a teacher at my high school who had a radio show on WMFO, which devoted a certain part of its airtime to student and community deejays. What they meant by 'community' was adults talking about issues that related to the citizens of that community. What they did not mean was a precocious, weird 17-year-old who found a way to worm his way onto the schedule to play the same Tom Waits and Billy Bragg songs over and over again, and yet it happened!"
Hodgman's next stop was Yale, where he recalls spending countless hours "wandering through libraries and thinking up things at random. I'd read about half of what I needed to know and decide I knew enough."
And that was sufficient to earn a degree in literature? "Oh, yeah. Pretty easily. I got a degree in literary theory because literature itself was far too practical. It became clear to me that I was drawn to literary criticism because, as an art of interpretation, you can make up a lot of stuff."
In the years that followed, "not through malice, but through sheer enthusiasm," Hodgman insinuated his way into the worlds of book publishing, where he worked as a literary agent for Dave Eggers's McSweeney's, and his own book, The Areas of My Expertise. "That brought me to The Daily Show, which brought me to Apple Computer [he played the PC in those Mac versus PC ads], which brought me to Battlestar Galactica, to giving the Vulcan salute to the President of the United States and so many other completely implausible situations."
Like becoming a best-selling author. "I was a writer for a long time because I felt it was impractical for me to become a performer," he says. "But when I became a performer, I realized it was something I always wanted to do. When the world failed to end in 2012 [as he, and the Mayan calendar, predicted], and after I had finished writing my final book of complete world knowledge, I finished what had been my core creative project as a writer. I had a huge hole to fill. I realized the way I wanted to fill it was to develop material to perform. What I'll be performing in Santa Barbara is the culmination of my first year of writing material specifically to be performed. It may never be written down. What I love about performance is that you conjure a moment between yourself and the audience that is never truly replicable. The material I'm performing is designed to live in that space."
4•1•1
Arts & Lectures presents John Hodgman at UCSB's Campbell Hall on Tuesday, April 1, at 8 p.m. For tickets and info, call (805) 893-3535 or visit artsandlectures.sa.ucsb.edu.