Visual Arts
Richard Haines at Sullivan Goss
Painter Reveals Another Side of the Midcentury Modern Style
As the dust settles in Palm Springs after another busy year at Modernism Week (more than 45,000 people in attendance this time around), it's nice to know that Santa Barbara residents with a passion for midcentury modern design don't necessarily have to travel to the desert to learn and even to collect. Apart from the ease with which a classic George Nelson–style bench can be obtained from MichaelKate or Design Within Reach, there's the fact that Sullivan Goss, An American Gallery, has the finest collection of midcentury modern paintings originating in California of any gallery in the country.
It's shocking how often this key element in the overall impact of a room furnished in a midcentury modern style is overlooked. Photos and posters are great, but when it comes to crafting the perfect blend of authenticity and excitement, nothing else will do but an original artwork with a strong connection to the movement and the period. Richard Haines: Midcentury Master, which is on view at Sullivan Goss, provides a great education for those interested in completing their understanding of the generation that produced the designs of Charles and Ray Eames and the architecture of Richard Neutra and Joseph Eichler. There's a lot more to it than what is on the surface, and that's one reason that painting is such an important piece of the midcentury puzzle.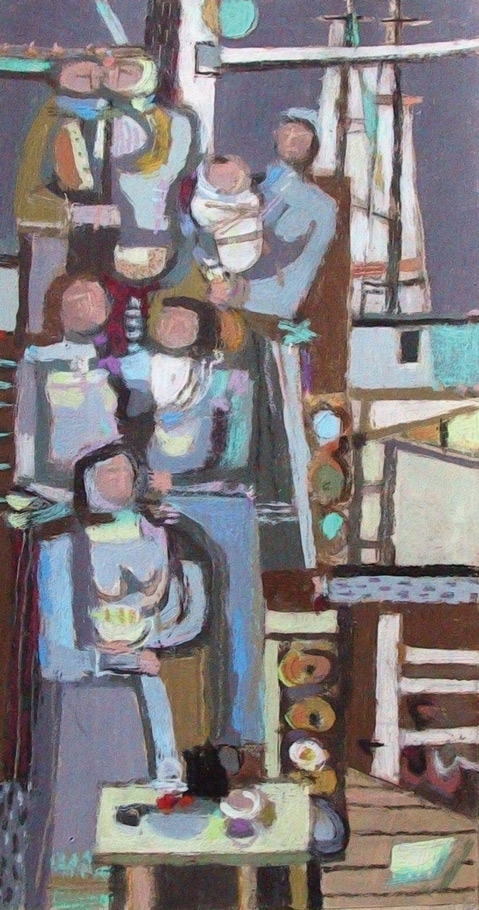 Coming out of a graphic design background and migrating to Los Angeles from the Midwest both put Haines in the mainstream along with his fellow modernist innovators. Thanks to a strong work ethic and a talent for instruction, he landed consecutive teaching appointments at the Chouinard Art Institute (1945-54) and the Otis College of Art and Design, where he taught from 1954 until 1974. As an educator, Haines balanced his own cubist and surrealist influences with the wider range of styles and techniques necessary to give his students a comprehensive understanding of the art form. At the same time that he took this responsibility for communicating the totality of painting to a younger generation of artists — many of whom would go on to considerable acclaim — Haines won recognition for himself as an in-demand muralist, completing dozens of commission for public works across the country, including several signature contributions to the UCLA campus, such as the murals on the façade of Schoenberg Hall.
Midcentury Master benefits from the breadth of Sullivan Goss's holdings, as it includes works from all phases of his career. For purity of midcentury purpose, it's hard to beat the images from the 1950s, in which Haines stacked cubist-influenced planes of paint using a relatively narrow bandwidth of colors to represent moments of community celebration. In "Celebration — Night of Return" and "Sketch D — Spirituals," Haines builds the scene with clusters of verticals, and then populates it with abstract figures united by form and hue.
There's a reverence for the spiritual side of life running through all of Haines's work, even when he forgoes the figure in favor of an unpopulated landscape. For example, in the 1975 painting "Irish Village," Haines captures the distinctive way in which Irish houses are grouped together, hugging the street, and thus providing information about who lives there and how they relate to one another even when no human forms are present.
The large painting "Possessions" and the small sketches gathered from the archive of Haines's studio that occupy the back wall reveal the artist's meticulous method of composition from opposite ends of the spectrum. The sketches demonstrate his willingness to experiment, and his persistence in exploring light and space through line and color, while the large canvas reveals a master at work in the juggling of multiple shapes and proportions toward a single unified effect.
In a time when all things midcentury seem to be enjoying an uptick in popular interest, Richard Haines: Midcentury Master offers a salutary reminder of painting's ongoing centrality in an aesthetic too often reduced to an inventory of buildings, objects, and furniture.