News
The Deltopia Disaster Debriefed
Visitor vs. Student Numbers Released; Supervisors Question Sheriff Over Tactics
When cell phone footage of a near-riot instigated by a man jumping on top of moving cars went viral just weeks before Deltopia, authorities started to sweat. Their unease proved justified Saturday night when utter chaos plagued Isla Vista streets as hundreds of people rioted during what's become an annual mega party. A number of them chucked bottles, bricks, and rocks directly at law enforcement officials, leaving one UCSB police officer with a split forehead and four Sheriff's deputies with deep lacerations to their hands.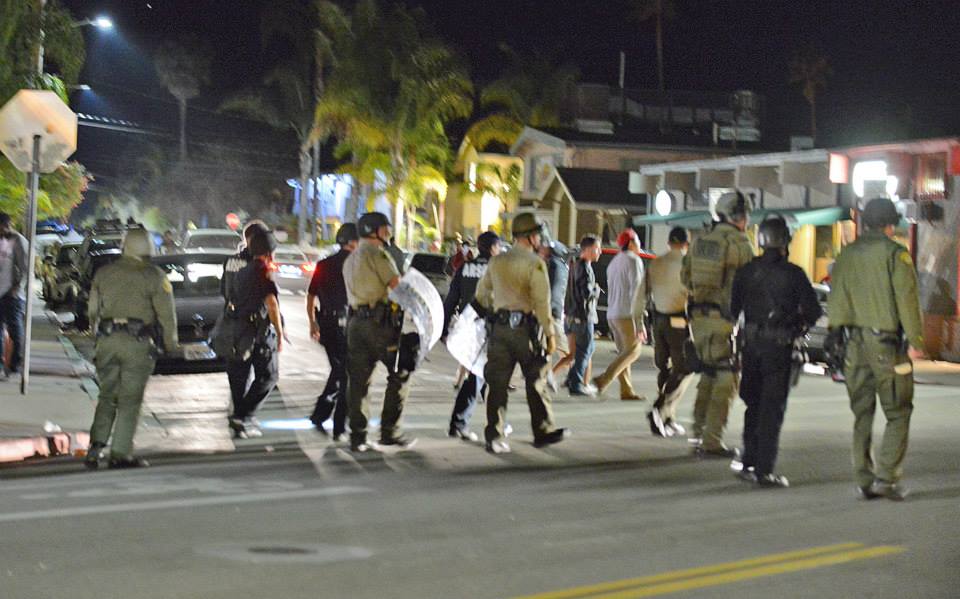 Often considered the doppelgänger of I.V.'s infamous Halloween party, Deltopia led to more injuries, arrests, and damage this year than last fall's October attraction; police fired tear gas and rubber bullets to disperse crowds during a scene heavy with, as one student put it, an "us versus them" mentality. A near-institution, Halloween now shuts down streets and is organized months in advance, and it proved relatively tame last year. Despite Halloween's "drain on money and resources," said UCSB police spokesperson Sgt. Robert Romero, "it looks like [Deltopia's] going in that direction."
On Saturday, an aerial photograph indicated 25,000 people packed the streets to participate in "hooliganism," said Sheriff Bill Brown when he reported to the Board of Supervisors Tuesday morning. Among a detailed list of statistics, Brown said a 17-year-old Los Angeles male swung a backpack stuffed with full liquor bottles at a UCSB police officer's face ​— ​knocking him to the ground and cutting him above the eyebrow ​— ​who sought to grasp him after he witnessed the suspect in a fight. This altercation drew the attention of an increasingly "unruly" crowd. Desmond Louis Edwards has been charged with mayhem (the legal term for maiming a victim) and assault on a police officer, among other felony counts. He will be tried as an adult, and if convicted, his sentence will range from probation to 12 years in state prison.
Some students cried foul at the five large, university-funded surveillance cameras that cropped up last week, claiming the installation lacked transparency and was done hastily. The footage is still being reviewed by the Sheriff's department. (In February, the university installed two cameras near the Isla Vista Theater following two sexual assaults.) The mobile but sturdy cameras are expected to be removed next week. Also new this year, the county enforced its festival ordinance ​— ​in place for years ​— ​which allows officers to issue citations to those playing music loud enough to attract a crowd unless they obtained a proper permit (no one did). People were informed of this law a few days prior ​— ​another hurried move, said UCSB student representative Alex Moore. Open discussions are now happening, he said, "however, it's a little late." Officers issued 11 tickets and reportedly gave warnings first.
The free-for-all would escalate for four or five hours, requiring 106 "mutual aid" law enforcement officers to be called in by the Sheriff's department at the last minute, supplementing the 130 initially assigned. The Santa Barbara Police Department provided 30 officers, and other agencies, including Search and Rescue volunteers, came from as far south as Oxnard and as far north as San Luis Obispo.
Noting the endless criticisms possible from a "Monday-morning armchair perspective," Brown commended his officers. He added mob behavior is not unique to Isla Vista, citing two recent examples of civil unrest ​— ​one was against police-involved shootings and the other followed the loss of a game ​— ​and a study that indicates mob violence is shown to induce "self-generated" euphoria.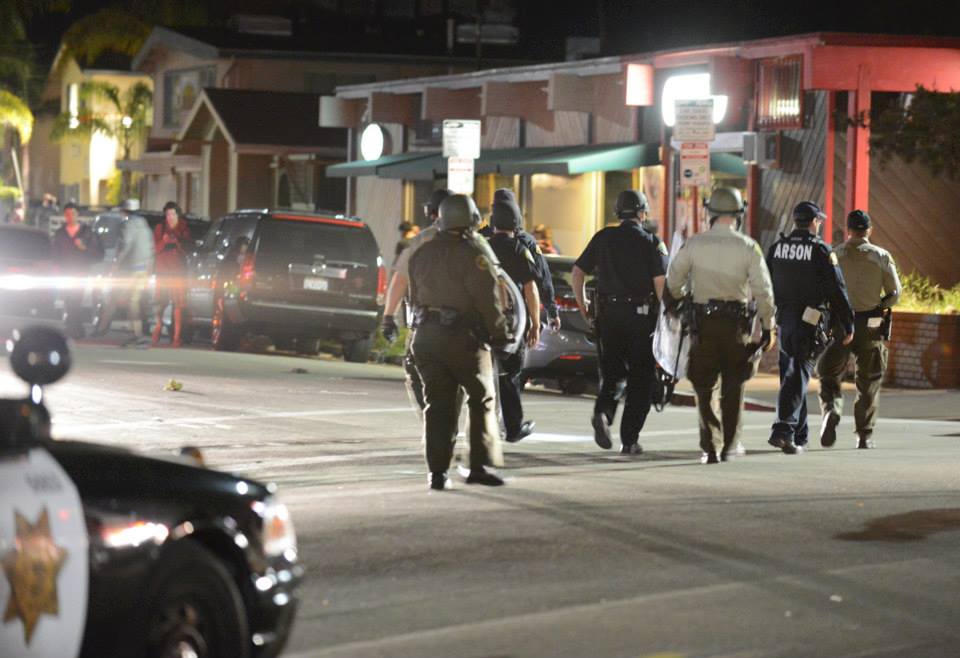 Following the sheriff's report, 2nd District Supervisor Janet Wolf asked Brown why there were no road closures ​— ​a tactic used at Halloween ​— ​when the board had passed a resolution a week prior to authorize them. Brown responded, "You can argue it both ways," claiming that if you put up parking restrictions, it creates more space for people to party. Plus, the board passed it relatively late, he said. Wolf also noted UCSB's policy to handle arrested students seems "ambiguous." UCSB does not automatically discipline students convicted of misdemeanors or felonies that occur off campus. In some off-campus cases, university administrators review the incident and determine if university action is warranted. There were seven expulsions in 2011-2012; five in 2012-2013; and none so far this year.
Both officials and students have claimed the delinquency stemmed from out-of-towners who flock to the "attractive nuisance," or unofficial bash, driven by the Internet's "word of mouth." Brown's facts somewhat confirmed that buzz. Approximately 66 percent of those arrested identified themselves as from out of the area. On Saturday, of the 130 people arrested ​— ​an 83 percent increase from last year ​— 17 were related to the civil disturbance and ​five were for violent crimes. Sixteen were UCSB students, 10 were SBCC students, and 36 attended a school outside the county. More than 250 people total were issued citations, most of which were for being drunk in public or a minor in possession. Two tickets were given for an overcrowded balcony (a balcony collapsed last year, leaving several injured). Further, 9-1-1 received 520 calls, and 50 people were transported for medical treatment. (District Attorney Joyce Dudley said she'd estimate about 40 percent of cases from Halloween involved a UCSB or SBCC student.)
"[Some of the students] felt that their rights had been violated in this crackdown," said Moore. "Does that excuse what happened? No, not at all." Speaking before the supervisors on Tuesday, Moore said he wanted UCSB students to take responsibility for their part, and he also called for a grand jury to conduct a third-party investigation of the event.