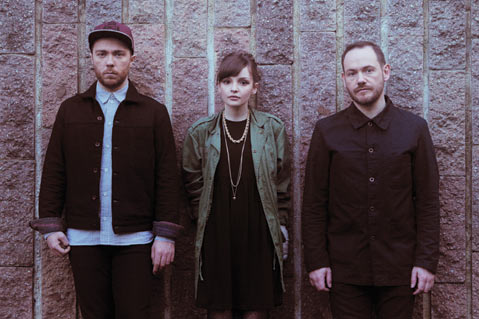 It felt like a swift transformation for Glasgow's Chvrches, going from a mysterious EP release to the third line of this year's Coachella lineup. A trio of Glasgow music-scene veterans, Chvrches wrote and recorded most of their music in a basement studio, where the decision to form the band was originally made. The group — consisting of longtime friends and producers Iian Cook and Martin Doherty and vocalist/journalist Lauren Mayberry — started out as most do, by writing and recording. As for why they decided to name the band Chvrches (with a v), it came down to simple searchability; just try to Google "churches" or "churches music" or "churches live."
Now, three years, one EP, one full-length record, and a bulging résumé of awards and critical distinctions later, Chvrches have practically become a household name. Despite their success, though, they're intent on maintaining their own distinct feel and vision. And they're eager to get back down into that basement. We recently chatted with Mayberry about her perspective on the media, the importance of maintaining creative control, and the best curry in Glasgow.
Has your education and experience as a journalist impacted how you write as a musician? Or has it had an effect on how you interact with the media? I don't think it necessarily makes me write differently, but I think it makes how we interact with the media different. Because even when I was a journalist, and I don't mean to pat myself on the back too much, but I think I was one of the good guys who would report it as it was. I didn't have a preconceived angle; I would develop my angle for a story after the interview was done. And that was a big learning curve at the beginning of this band, to learn that not necessarily everybody works like that. But beyond that, I was always in bands while I was writing anyways, so the two things are kind of separate for me.
I would always think about that when I was writing something. Like, if it's a review, I'll just say, "It's subjective; it's your point of view, based on a record or based on a live show," and I would never really think my opinion was fact. But now, I think it's kind of funny to see the other side of that — when people really trust reviewers. Sometimes things can be really spot-on, like when you find a reviewer who shares their taste with you. But I think that's really quite rare. So taking something like a review as gospel is quite difficult for me, I think.
Do you anticipate maintaining creative control getting more difficult as the band's profile continues to grow? For us, creative control has been pretty easy because we have two people in our band who come from a production background, so we can engineer and record the whole record ourselves and not have to be in with another producer. There isn't another opinion involved. By the time we got signed, we had made a majority of the last record anyway, so labels kind of knew what they were getting, and there was never any question as to whether we'd be able to do those things. I also think it's helpful that we've been able to work with people who are generally supportive of the things that we want to do. But I think that's mostly just a case of keeping your brain on — thinking every day about what you're doing so you don't end up, I don't know, playing on a stage [with] a giant soda can or something.
Are you anxious at all about the next record? It seems like most of Chvrches' music was produced in a relatively short amount of time up to this point. I guess. I mean, for us it probably doesn't feel as fast as it does to you guys in the public because we were making the record for a really long time before we started touring. And now we're on the road a lot, so there's not a lot of time for writing new things. I think it's kind of about focusing on what's important, and for us it's finishing touring this record and writing and recording another one in pretty much exactly the same way that we did the first time. I think when you lose sight of that, you kind of lose sight of where you're coming from or what you're supposed to be doing. I'll be quite happy when it's time to go home and get holed up in a studio again.
Speaking of home, any restaurant recommendations in Glasgow? I find it quite hard to find a place for good curry when we're on the road. We'll be on tour, and I'll want some curry — like really want some spicy vegetables — and then we'll go someplace, and it'll be terrible. When we go home, we're quite into that because there's quite a healthy Indian restaurant scene in Glasgow. So we go to this place called Mother India, which is really good. I'd recommend that. And it's really close to the Kelvingrove Art Museum, which is really nice to go and visit.
4•1•1
Chvrches plays the Majestic Ventura Theater (26 S. Chestnut St., Ventura) on Tuesday, April 15, at 8 p.m. Call (805) 653-0721 or visit venturatheater.net for tickets and info.