Arts & Entertainment
Talking Trap with A$AP Ferg
A$AP Mob's Trap Lord Teams Up with Flatbush Zombies in Santa Barbara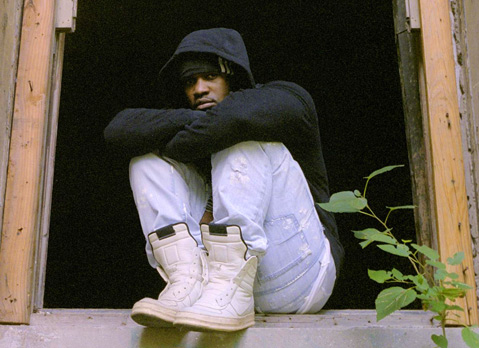 A$AP Ferg, born Darold Ferguson, Jr., has gone by the moniker "trap lord" for some time now. But that doesn't mean he's tired of explaining its meaning.
"I never get tired, because there's always a person who wants to know who A$Ap Ferg is, aside from the A$AP Mob. Or they want to know my personality, or really know what I'm here to do in the game. And they deserve to know. For a fan, before you become a consumer you want to know what you're buying into. So I get it, totally."
For Ferg, creative expression and hustle are both legacies left by his father, Darold Ferguson, Sr., who owned a Harlem boutique and screen shop and printed t-shirts and designs for the likes of Heavy D, Teddy Riley, and Bad Boy Records.
In 2011, Ferg joined the Harlem-based hip-hop collective A$AP Mob (and adopted his A$AP moniker) together with high school friend Rocky, a then up-and-coming Harlem-bred rapper. Meanwhile, Ferg had already established himself as a hustler of repute as the owner/operator of his Devoni Clothing label, which made leather belts for everyone from Chris Brown to Swizz Beats.
Needless to say, Ferg's vision has always been broader than simply rapping. It's a mentality that's translated well, not only as a member of the A$AP Mob — it's proved to be a necessary mindset for anyone who fancies themselves a "trap lord".
This Tuesday, April 15, A$AP Ferg headlines a show at Casa de la Raza 601 E. Montecito St.) with Flatbush Zombies. In anticipation of the event, we recently talked to Ferg about his travels, his relationship with his fans, and what it's like riding a float during Carnival in Trinidad.
You recently announced that you're doing a small tour with M.I.A. What has your relationship been like with her music? What is it about her that appeals to you artistically? M.I.A. is just a dope artist, style-wise. She's been making different kinds of music on the indie side of things for a long time, and she represents a lot of the kids that are a part of that culture. So, I feel like it's important. She's like one of the first cool kids that came out, around Kanye and all that, along with Santigold and that whole new school era. That just kind of reminds me of when A$AP was born, because we were listening to M.I.A. and Santigold and stuff like that. So that seems really reminiscent of that time. I'm a fan.
There's a video online where you told Riff Raff that you thought he was about to become an icon. Do you think MIA is an icon? If so, what makes her iconic? Well, I don't really remember calling Riff Raff an icon. … I do think that MIA is an icon, though. She's iconic because her art is pure; it's pure to her. There's no fake in there. I can tell that she'd die for what she believes in. She makes the art that she wants to make, and she doesn't compromise, and all icons never compromise.
Do you feel like you're on your way to becoming an icon? Is that a goal of yours? Not so much an icon. I just want to become a figure that innovates. You know, I might not make it long enough to be an icon. I might not live to tomorrow to tell a story again. I might not even make it there, you know? I can only speak for today. I want to become as big as I can, though. I don't just want to become the best rapper. That's what I've set out to become. But to speak on becoming an icon? That shit just happens.
This track you just released, "Petit Valley," found you collaborating with [ragga socca artist] Bunji Garlin. Was that something you've had your eyes on for a while, or more of a spur of the moment thing? It was more of a spur of the moment thing, to be honest. I went to Carnival in Trinidad and they were playing that song everywhere, and I liked the song, so I did a freestyle over it.
Was that the first time you had been to Trinidad? It's actually my third time, but my first as an adult. My family is from Trinidad.
How was it different being there now, as A$AP Ferg? It felt pretty different because there were a lot of people who acted like they knew me, and I didn't know who they were. I had a lot of fans stopping me in the street. It was cool. I had a chance to ride on one of the floats, too. I would have never had a chance to ride on one of those floats if I was, like, young and not famous.
What does one do on a float during Carnival in Trinidad? Was there a theme on the float? It's cool. I mean, it's like any other parade. In Trinidad the floats are not really like that, though. They're just big trucks with stages on them, and sound systems.
Were you performing? Nah, I was just chillin.
A lot of people have taken those lyrics from "Petit Valley"and speculated that you met someone special in Trinidad. Any desire to comment on that? Well, I'll leave that up to the people to decide [laughs].
Do you feel like people treat you differently now that you've established yourself as an artist? Yeah, they do. But I feel like that happens with anybody, just because, first of all, you've got the celebrity syndrome. Everybody thinks I'm going to be a superstar to them, and I'm not gonna talk; I'm not going to be a person. But then when people meet me they see that I'm funny and shit like that, so it's cool.
Is that difficult? I mean, I knew what I was getting in to when I started rapping. You can't really be a regular person anymore. You can't go to the super market, or watch somebody's performance. If you're watching a performance then somebody will take a picture of you. But I understand that. If I saw one of my favorite artists I'd be like "Damn, this might be my only chance to get a picture." I understand that whole side of it. I'm not trippin' over it.
Do you feel like your music doesn't resonate as much with an international audience? Not necessarily, because it's the same kind of bounce. Everybody relates to my music the same way because it's the same message. My music is not hard to understand. "Shabba Ranks" is a turnt up song. "Work" is a turnt up song. "Let It Go" is a turnt up song. And the more conscious songs — like "Hood Pope" or "Cocaine Castle" — there's a clear message that I'm stating in those songs, and people totally get it.
You've been designing clothes for some time now. Tell me about your plans for your brand, Trap Lord. Is that something that you're still closely involved with? Yeah, I design everything on that, and that's why it takes me a while to put things out. I have the final say on everything, from the models in the pictures to the style to the materials used — the dyes, the logos. I like to be real hands-on, and that's why it's exclusive. But I do want to more to more lifestyle stuff, like dining, sheets, bedspreads, rugs, things like that; forks, plates, glasses, towels. All that stuff.
You sound like Trap Lord Ralph Lauren. Yeah, well, Ralph Lauren is one of my biggest inspirations. I just want to live through my lifestyle. Ralph Lauren has his; he deals with horses and cars. I deal more with BMX and — I'm just a kid, you know? I'm a kid and I love to have fun and I want to represent my culture.
Speaking of BMX, have you been bringing any bikes on the road? I haven't lately. I gotta go home and get my bike. I will in the future, though.
What are you riding? I got a customized bike made by Nigel Sylvester, the BMX rider. He built me a bike from scratch, so shout-out to him.
A lot is being said about the resurgence of hip-hop, especially in New York. Do you feel like there's an ample supply of young talent coming up behind groups like A$AP or Pro Era? There's no shortage. I think people are getting way more talented. Rap was getting boring for a long time, when everybody was shooting the same kind of videos [and making] ass poppin' music. It was kind of getting whack. But now people are talking with substance. They're really just being themselves; kids are being themselves. You don't have to wear a big chain anymore to be the best rapper alive.
Finally, what are you listening to? And what are you wearing? What I've been listening to? Myself. [Laughs] Honestly, though, I've been listening to the A$AP Mob album, which is coming out soon, but we don't have a date on that yet. As far as designers, Alexander Wang and Ralph Lauren are number one. And that's pretty much it right now.
Anything you want to add, Ferg? Yeah, thank you. Oh, and make sure everybody knows to get that Trap Lord app. It's available on the [iTunes] App Store and on Android.
4•1•1:
A$AP Ferg headlines Casa de la Raza (601 E. Montecito St.) on Tuesday, April 16 at 8 p.m. with openers Flatbush Zombies. For tickets and info, call (805) or visit nightout.com/events/asapferg.