News
Manzana Day Hike to 'Ray's Camp'
Visiting a Backcounty Spot Named for Ray Ford
Hike: moderate day hike into the San Rafael Wilderness past Fish Camp along Manzana Creek; suitable for sturdy kids 6 and older
Mileage: 10-mile round-trip
Time: 3 hours driving and about 5 hours hiking, including an hour munching a nutritious lunch at "Ray's Camp"'s new table beside flowing Manzana Creek
Maps: B. Conant, San Rafael Wilderness Map Guide
Thoughtfully walking the wilderness footpath along Manzana Creek enhances one's inner awareness, as he perforce faces the social world's "shadow self" and some of his own unexamined assumptions. At the end of March, between rain showers, I hiked from NiraCamp, where the last road ends upstream and five miles into the fabled San Rafael Wilderness. One goal was to check out the newly dubbed"Ray's Camp" site, checking Manzana water levels along the way, but really just ambling happily along the lush riparian corridor. No white noise or even any humans. The recent rains made the blue sky beautiful, with dark cloud ridges corrugating the land's brown ridgelines.
As postmodern, even "post-human," Homo sapiens, we should try to improve our thinking by careful use of reason. Hiking along a remote watercourse stimulates this process, or so thought Plato — who liked to amble among the lovely plane trees in Athens' forest grove called the Academy. MacArthur genius award-winner Rebecca Goldstein agrees in her spirited defense of philosophy Plato at the Googleplex, subtitled Why Philosophy Won't Go Away. Goldstein contends that "Progress in philosophy consists … in constantly bringing to light the covert assumptions that burrow their way deep into our thinking." Society today, iClutter and white noise galore, makes it difficult to seize the time to ponder our hidden assumptions, but inner analysis is a hidden benefit to trudging beside a sparkling creek.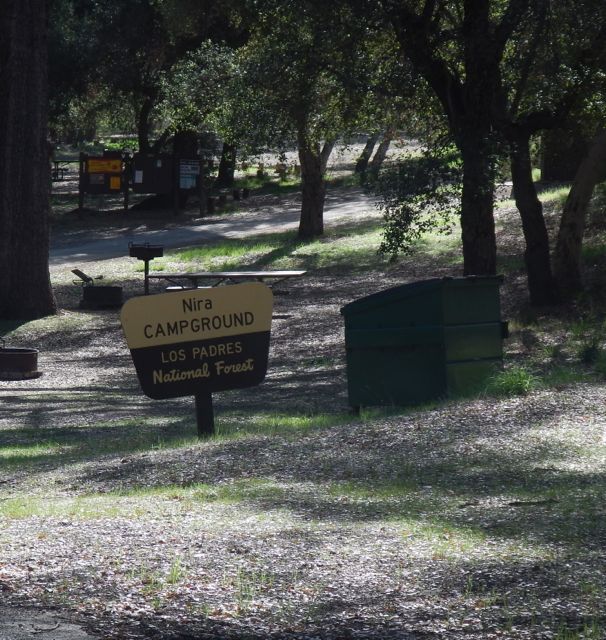 After parking my vehicle at verdant Nira Camp, I immediately began hiking east, which means upstream. The creek crossing at Nira was about 10 feet wide, with six inch depths, a good flow given our drought, and using my twin poles I managed to get across without wetting my boots. I found water at Lost Valley Camp and the "new" Ray's Camp, but the Manzana's wide, rocky wash at Fish Camp was almost completely dry. The watercourse goes underground here, but I picked up water just a few hundred yards on east of Fish Camp. Amazingly, Fish Creek itself was running, but barely.
In hiking this backcountry since 1973, I've often overnighted at a nameless "free" campsite five miles into the San Raf from Nira. It's a shadeless hell in summer, but for winter and spring camping, this sylvan spot is ideal. Recently, Los Padres Forest Association (LPFA) named it Ray's Camp to honor Ray Ford, a longtime backcountry enthusiast, writer, and The Santa Barbara Independent's outdoors editor.
As you near this camp, you first enjoy a green grassy upper potrero, and then drop sharply a few feet into Ray's Camp next to the creek. In very dry years, e.g. the seven-year drought during 1984–1991, Ray's Camp has been the first place my backpacking friends and I could locate good water, so this site is important for backcountry survival. While hiking and pondering, analyzing some covert assumptions, I could see how we have taken our predecessors back here for granted. There are the First People, the Native American Chumash, of course, but I am thinking of backcountry explorers like E.R. "Jim" Blakley (an LPFA founder), Dick Smith, Campbell Grant, Franko Hudson, Chris Caretto, and certainly Ray Ford, himself. His 1976 book Trails of the San Rafael Wilderness (with Marty Hiester) was the very first tome I had ever seen detailing this area, and I still utilize my worn original edition!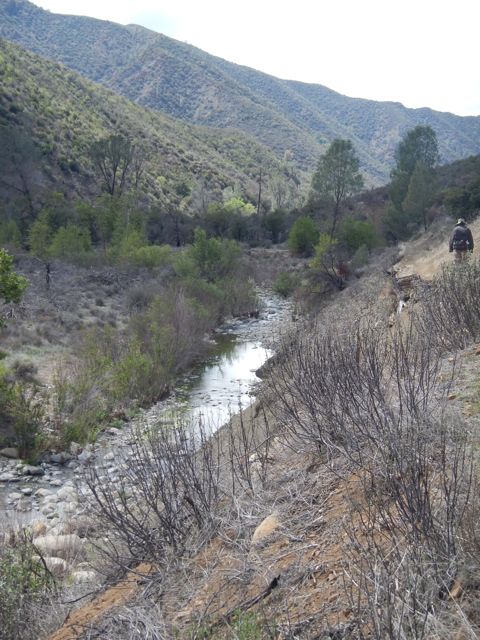 Hiking along the glorious Manzana glinting in the sun, you become mindful of those who fashioned these trails and those who have maintained them, and the overwhelming beauty: giant sycamores, massive oaks, riparian splendor with arid brown yucca-covered slopes above. Just in the last few weeks, a 15-person LPFA crew chopped away fallen timbers on these trails for three days, and the backcountry's Mike Smith brought his string of goats to support their work, for which I am grateful.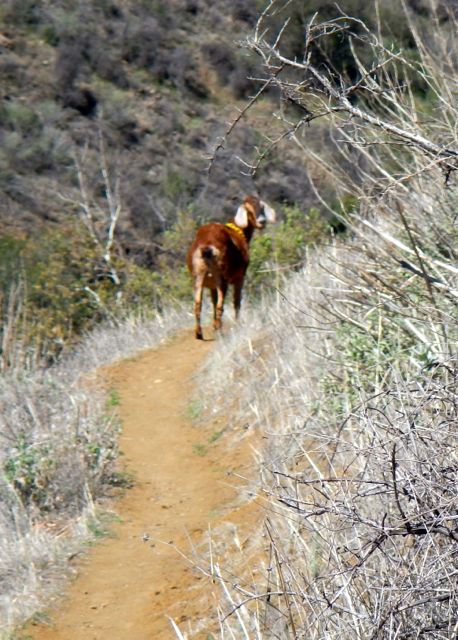 The Manzana Creek Trail to Ray's Camp (and two more miles to Manzana Narrows) is fairly gentle and not very demanding physically, which enhances philosophical introspection: wilderness-as-truth-serum or simply so quiet that your one-pointed focus inevitably kicks in. In this state, the hiker still has to focus on the path directly in front of him and maintain some semblance of outer awareness: Nearing Fish Camp, I looked up and noted a very large, brown and black, goat-like creature.
Mike Smith had left a note dated March 23 back at Nira, stating that his 200-pound Nubian goat Gunter had wandered off and not returned. Here he was, still with his rope halter around his neck. Gunter had been out there for eight days when I encountered his magnificence on March 31. He looked very strong and tough, and wasn't ready to give up the trail, so I chose to hike way up around him, chattering softly all the while. I had no rope, and Mike's note said do not try to lead him.
Having never owned a cell phone, I waited until back at Davy Brown car camp, where my tent was set up, and asked some departing folks to call Mike once they were within cell-phone reception. They did this, and very kindly drove all the way back to Davy Brown to let me know.
One unexamined assumption is that these trails maintain themselves. In the original idea for creating federal wilderness zones (2014 is the 50th anniversary of the historic WildernessAct), the concept was that there would be no trails at all. Today, I am grateful to the LPFA, to Gunter and Mike, to James Wapotich, Craig Carey, Bryan Conant, and particularly Ray Ford. Long may you all visit and enjoy Ray's Camp on the gurgling Manzana.