Film & TV
Vegans on Film
Marc Pierschel's Documentary Live and Let Live Captures Earth Day Spirit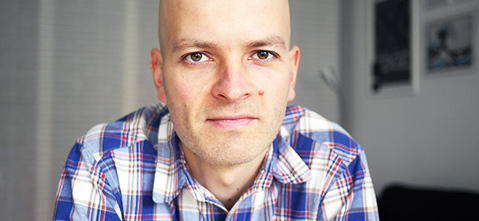 After publishing a book called Vegan Lecker Lecker in 2010, Marc Pierschel decided to take his commitment to veganism one step further by filming a documentary to promote the vast environmental and health benefits he believes are associated with the vegan diet. His film, Live and Let Live, will makes its Santa Barbara premiere on April 22, just in time for Earth Day.
In a recent phone interview, Pierschel elaborated on the vegan lifestyle and what audiences can expect from the film.
Being a vegan seems like a really big commitment, so what would you say is the most challenging part?
Making the first step. That's the hardest part for a lot of people because it's hard to step out of your convenient way of living. Eating habits are so difficult to change, especially if you have a diet that has a lot of meat or cheese. But once you make that step, there's a whole variety of vegan foods and recipes.
What inspired you to do this film?
While I was writing the book, I had the idea to make a documentary out of this because I think a documentary is far more accessible to a lot of people.
The film follows the lives of six people who made the switch to a vegan diet. How did you choose those people?
Our first interview was with Jan and Karin, who run an animal sanctuary in Germany. We did interviews in the U.S. in 2012, and as I was traveling here, I just found these people or heard about these people.
What was the most inspirational part of the filming experience for you? Just to meet all of these interesting people and to hear their stories. Also, meeting all of the animals for the film was really nice. We just did a special for the DVD where we paid a visit to all of the animals two years later, and it was really nice to see how the animals have grown up and how they have changed and how it all turned out.
Is there anything that you learned specifically while filming this documentary that you did not know before?
One thing I learned for sure is that making a documentary is a lot more work than I thought it would be.
Are there any common misconceptions about being vegan that you talk about in the film?
A lot of people say that it is not healthy to live on a vegan diet but it's the opposite. Of course, you have to take care of your meals and look at what you're eating in detail. I mean you can live on a vegan diet and just eat junk food and then have some problems. But yeah, it's no problem to live healthy on a vegan diet.
The athlete from your documentary mentioned that he had more energy after switching to a vegan diet. Why do you think that is?
I talked to a lot of different athletes and they all said that their recovery times are better and they don't feel as heavy after a big meal. Recovery times are really important for a lot of professional athletes and there are lots of athletes from different types of sports that are switching to a vegan diet just because of that.
What is the biggest concern regarding the current relationship between humans and animals that you address in the film?
The biggest concern is that we don't treat animals as individuals. We treat them as property or things we can use for our own good. I just hope my film can make people see that these animals deserve a better life.
What is the overall take-home message you want the audience to have when they see this movie?
Just that it is really easy to live as a vegan today and that there is nothing to stop you from going vegan after you see this movie.
4•1•1
Live and Let Live screens on Tuesday, April 22, 6:30 p.m., at the Santa Barbara Public Library's Faulkner Gallery, and filmmaker Marc Pierschel will answer questions afterward. Tickets are $3. See letlivefilm.com.