News
Big Plans for the Big House
Proposed Jail Currently Designed in Mission Theme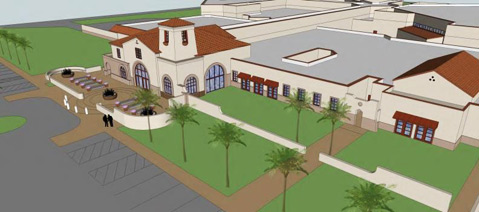 Sheriff Bill Brown provided the supervisors with a visual and verbal view of the planned North County Jail on Tuesday, replete with projections for the facility's design, staffing levels, and construction plans. Brown said the process is on time and on budget, with $80 million in state money set aside for construction and a revenue-growth-reliant plan to pay for the $15.8 million in operating costs ​— ​slightly less than originally assumed ​— ​but ended his presentation by acknowledging the threat that Measure M could pose.
Brown started with the building's design, which is meant to replicate California's missions, as "missions were places of respite for weary travelers, but they were also places that facilitated redemption and revitalization for people." At 140,000 square feet, the facility ​— ​slated to open in early 2018 at the intersection of Betteravia and Black roads in Santa Maria ​— ​will offer 376 beds with potential to expand to 1,500. Brown, calling the Main Jail "Santa Barbara's version of the Winchester Mystery House" with its varied designs and infrastructure, said the new facility will offer housing units better-suited to supervision and self-containment, each with their own rooms for video visitation and medical exams.
Seventy-three custody deputies will be hired ​— ​all hires will be staggered over four stages starting this August ​— ​but only one deputy on average will be responsible for supervising 32-64 inmates. Brown said that ratio was standard, but Supervisor Doreen Farr took issue with it. "Wow. I just have to tell you, I wouldn't want to be responsible for 64 people for four hours at a church picnic," she said.
Tuesday's discussion didn't include details on the additional 228-bed, 52,000-square-foot recidivism-reducing wing, the construction of which will be paid for with a $39 million state grant and 10 percent match from the county; details on that wing are expected this summer.
Talk of the jail's operating costs veered ​— ​as it has for most meetings recently ​— ​to Measure M, which the board also discussed later in the day. Championed by Supervisor Peter Adam, the ordinance would require anywhere from $17 million-$39 million per year (more than originally thought) to maintain county-owned roads, parks, and buildings. "I would categorize it as the right idea but the wrong approach," Brown said Tuesday. Without new revenue sources, grants, or a savings plan similar to that for the jail, the measure's passage could mean cuts to public safety, officials have said.
Earlier this month, donations poured in against the ordinance from the county's Deputy Sheriff's Association ($20,000), the county's Firefighters Government Committee ($10,000), the Santa Ynez Band of Mission Indians ($25,000), and Service Employees International Union Local 620 ($5,000). Supporters have included the Montecito-based Neighborhood Defense League ($30,000), Santa Maria Energy ($10,000), and CalPortland ($7,500), a construction company with locations all over the western United States including in Santa Maria, Lompoc, and Solvang.