Food & Drink
Sweet Support for Rape Crisis Center
Santa Barbara Chocolatiers Join Forces to Fight Sexual Assault in May 3 Benefit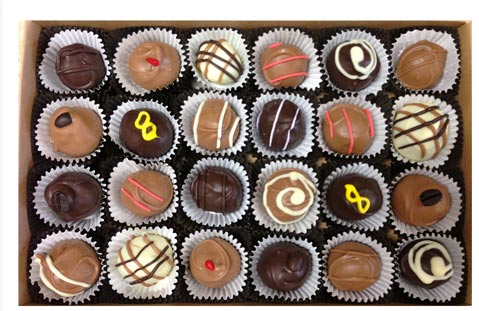 This Saturday, May 3, the Santa Barbara Rape Crisis Center (SBRCC) hosts its annual Chocolate de Vine fundraiser at the Greek Orthodox Church, where guests will dress up, enjoy a cornucopia of confections made by pastry chefs and chocolatiers, and go home without feeling guilty about an evening of indulgence, since it all goes to prevent sexual assault. To purchase tickets, which range from $65-$100, see sbrapecrisiscenter.org. Here's just a sliver of the chocolate that will be flowing:
Piece of Mind: Chocolatier Ashleigh Johnston-Barton was diagnosed with celiac disease 12 years ago, but she didn't let that prevent her from creating delicious treats. Instead, she established her own gluten-free bakery, specializing in cakes and chocolates, explaining, "I used it as a way to create what I wanted to eat." Barton's trademark item is a dark-chocolate-truffle passion-fruit buttercream, but she's concocting a fig-and-honey caramel truffle especially for this year's Chocolate de Vine. She's been affiliated with the SBRCC since 1997 and looks forward to contributing to the event every year.
Mama Ganache: Not long after Tom Neuhaus visited his first fair-trade cocoa cooperative in 2003, he started his own business to help cacao farmers in developing countries. "As a result, I've been traveling to Africa ever since," said Neuhaus of that pivotal trip to Ghana. Neuhaus founded Project Hope and Fairness in 2004 with the intention of exposing people who practice unfair cocoa trading, but his organization has accomplished much more since then. Neuhaus also sells the Native Power Bar, which comes complete with fudge, chewy caramel, toasted almonds, and a rich coating of dark or milk chocolate. Half of the proceeds from Mama Ganache sales at Chocolate de Vine will go toward Project Hope and Fairness. See mama-ganache.com.
Stafford's Famous Chocolates: This is Stafford's first Chocolate de Vine, and co-owner Benjamin Taylor is delighted about the opportunity to show off their sweets. "This is very exciting," he said, "and it's for a good cause!" Larry Stafford founded the company in Porterville, California, in 1987, but Taylor and his father bought the business in 2010 and opened a second store in Los Olivos soon after. Customers at each store prefer different items, said Taylor, explaining that Los Olivos wine country clientele go for the dark chocolates while Porterville patrons reach for milk-chocolate varieties. But the Ooey Gooey Bar, one of Larry Stafford's original recipes, is a unanimous customer favorite that will definitely be showcased at the fundraiser. The bar comes on a stick, consists of fluffy homemade marshmallow, natural peanut butter, and caramel that's covered in a creamy layer of dark or milk chocolate and is topped with crunchy California almonds. See staffordsfamouschocolates.com.