Film & TV
Review: Neighbors
Seth Rogen, Zac Efron, and Rose Byrne star in a film written by Andrew J. Cohen and Brendan O'Brien and directed by Nicholas Stoller.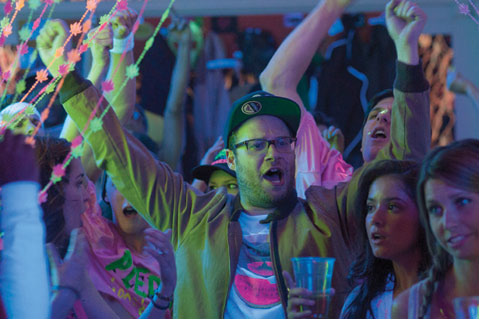 On the promo posters, it's all about Zac versus Seth, or as one critic put it, Efron's penis versus Rogen's hairy back. But the best part of Neighbors' sloppy but entertaining comedy is Rose Byrne, who plays a young mother with the mouth of a drunken sailor. It's a small blow for the promotion of gender equality, but Byrne seems much more than just one of the boys here; she seems to relish participating in the crass and taboo-tramping jokes that define the film's appeal. The worst of it comes in an awkwardly executed gag about her breasts (she's nursing but, after drinking, doesn't dare to feed the baby). It's a joke that seems to head in a shocking direction but ultimately chickens out. We feel uncomfortable, but cheated, although the animal husbandry puns that follow are funny. Later, Byrne shines diabolically during a seduction she instigates at a frat house rager. It's definitely hoes over bros here.
For the film historians among you, this is not a remake of John Belushi's final film of the same title, which was a mediocre version of a fine Thomas Berger novel. In that picture, Belushi played a bourgeois suburbanite victimized by swinging predatory neighbors. This Neighbors pits a married couple still haunted by their hipster past against an entire fraternity that moves in next door. This is far less sinister than the Belushi flick, even with the addition of dildo jokes and magic mushrooms. Instead of examining the social contract, it explores the nature of practical jokes.
On the downside, Neighbors takes too long to get funny, and the story seems to jump around; characters with no backstory suddenly become central, suggesting a chunk of stuff was left on the cutting-room floor. But the slapstick moments, including the vaunted airbag gag, work just fine. The story is ultimately kind to frat boys, callous toward the sacrosanct responsibilities of child rearing, and has a tough enough woman with an encyclopedic potty mouth. Maybe it isn't liberation, but it's refreshing to see her milking a glorious sophomoric tradition.