Columns
When an Elementary School Goes on Lockdown
Report of a Gunshot Brings the Heat May 20
This column describes the events of Tuesday, May 20.
There are a lot of things parents don't want to ever hear. One of them is that their child's school is under lockdown. On May 20, Isla Vista schools tested their lockdown procedures when police received a report that a sound like a gunshot had been heard on West Campus near the horse stables, which is close to two preschools and an elementary school. This report led to some tense moments for parents, police, and locals.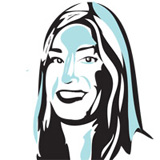 It all began around 9 a.m. when police received a call reporting a sound like a gunshot on West Campus. When police arrived, they saw a person running — running away from them, they presumed — and the chase was on. Santa Barbara County Sheriff's deputies and officers from the UCSB Police Department closed Storke Road and El Colegio to incoming traffic and began searching for the "suspicious subject."
The first inkling I had that anything was going on was when a police officer parked his car at the end of my street and stood guard at the bridge in the Camino Corto Open Space. At first, I didn't think anything of it. I assumed that my neighbors had gotten themselves into trouble again.
Then, an alert was sent out at 10:15 a.m. through the UCSB emergency system telling locals about the search. The system is regularly used to alert Isla Vista residents to thefts, assaults, and violent crimes. The alert said that police were looking for a "white adult (male) 17 or 18 years, 5'8″, 140-150 pounds, black beanie, white shirt, dark shorts."
Even at this point, I didn't worry too much. I hadn't heard about the possibility of a gun, and in addition, I had a police officer stationed outside my door. Then I received a phone call and email from the Goleta Union School District saying that Isla Vista Elementary School was under a precautionary lockdown; my son is a student there. Things had become personal.
The email said, "All students are safe and being kept inside as a precautionary measure … We will send another message when the lockdown is lifted. In the meantime, please do not go to the school. Children will not be released until we are cleared by law enforcement to do so."
As a parent, the first thing you want to do is run to your child when you get a message like that. It takes a lot of self-restraint to wait. You start to run different scenarios through your head.
Soon after, a helicopter started flying a few feet above the trees in the open space in front of my house, searching for the suspect. A neighbor said she saw police peering into the bushes surrounding the Del Sol Vernal Pools with rifles drawn. With the helicopter hovering nearby, the situation started to feel more dire.
Parents from Isla Vista Elementary posted their concerns on Facebook and called one another to find out what was happening, sharing what they knew. Thankfully, by 11:20 a.m. the lockdown was lifted, and the children were allowed to go outside.
When I picked up my son after school, I was surprised that he wasn't greatly affected by the lockdown. He talked about the sound of the helicopter circling nearby and the sight of police officers searching his school grounds, but he was blasé about the whole thing. His teacher had kept his class hidden and relatively quiet, without causing them anxiety. The highlight of the event seemed to be the fact that some students had to use a porta-potty in the classroom. The school was obviously prepared for this type of situation.
At 11:55 a.m. police sent out an email saying that the search had been called off and the subject had not been caught. While the situation felt unresolved, I was comforted by the fact that the police had worked quickly and efficiently. In addition, the schools had kept students safe and notified parents. Overall, it was good to know that the procedures set in place had been tested and worked.